Turkey
Istanbul police attack protestors with tear gas, water cannon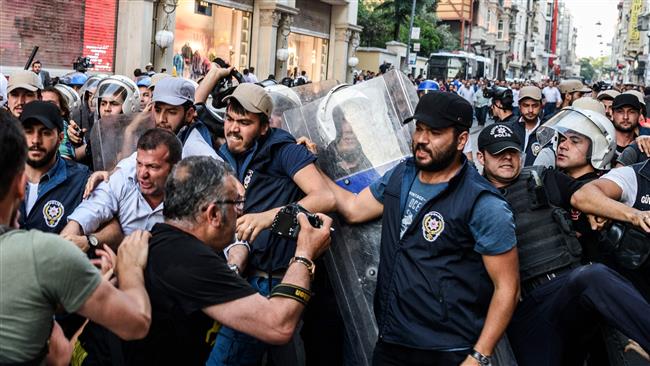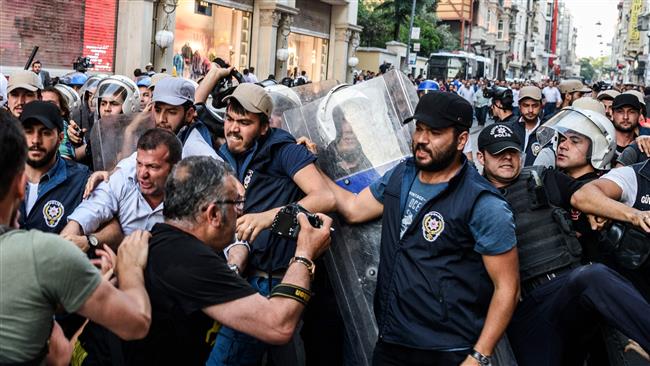 Police in Turkey have clashed with demonstrators holding a rally to mark the third anniversary of massive anti-government protest rallies.
Police on Tuesday used tear gas and water cannon to disperse hundreds of protesters who had gathered at Istanbul's famous street with the aim of marching to Gezi Park.
However, the site was on lockdown along with Taksim Square, which neighbors Gezi and more than a dozen activists were detained.
The protesters, who were chanting "The struggle continues", criticized President Recep Tayyip Erdogan for his authoritarian rule.
The demonstrations came a day after Erdogan laid into the western media for being allegedly "blind, deaf and dumb" to a police crackdown on demonstrators in strike-hit France.
"I salute the President. It is controversial for a President who criticizes French police and the pressure they heaped on people in the country, to dish out this treatment to us today,"  a protester said in reaction to Erdogan's criticism.
"He is contradicting himself. We don't understand why he is afraid of letting us go to that park."
Meanwhile, police detained 16 activists at the offices of the city's Chamber of Architects which had opposed the Gezi Park development and strongly backed the protests, local media reports said.
A similar demonstration was held in the capital Ankara and the southern resort of Antalya.
The huge protest rallies on May 31, 2013 followed government's efforts to uproot trees in the Gezi Park as part of its plan to redevelop the popular site.
The initial demonstrations quickly grew into mass protest marches converging on the major square over what the protesters referred to as the authoritarianism of then prime minister, Erdogan.
Eight were killed in the nationwide unrest that followed the Gezi Park protests.
The turmoil, which was widely viewed as the biggest challenge to Turkey's ruling Justice and Development Party (AKP) since it rose to power in 2002, was brutally suppressed by riot police forces, who resorted to the wide use of tear gas and water cannons.
Erdogan, meanwhile, censured the protesters as "terrorists," claiming that they were intent on destabilizing the country. He vowed that the government will take a tough stand against protest efforts.
The government's heavy-handed security measures against the protesters elicited harsh condemnation from Turkey's Western allies.