Europe
Italian police clash with anti-fascist protesters in Milan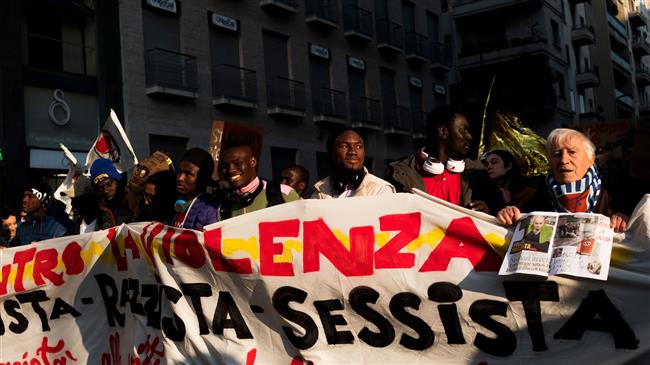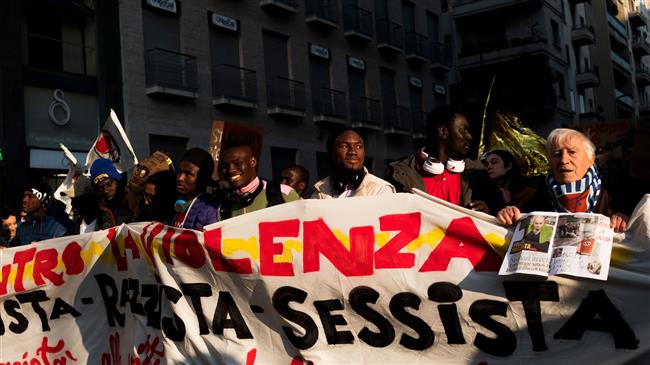 Italian police clash with anti-fascist protesters in Milan as protests erupt across the country following the shooting of six refugees in Macerata by a far-right gunman with neo-Nazi and neo-Fascist ties.
Protesters, demonstrating against racism and the return of fascism in Italy, attacked police with sticks and threw stones, while police retaliated with batons as thousands of people took to the streets of Macerata on Saturday in the Italian city where migrant shootings occurred.
The demonstrators carried a range of banners denouncing the return of fascism in Italy.
The march, promoted by anti-fascist movements, aimed to show solidarity with victims of an attack carried out in the central city by a 28-year-old Italian, Luca Traini, on Saturday. Traini opened fire on African migrants in an attack which police said was racially motivated and injured six people.
The shooter had an Italian flag draped over his shoulders when he was detained in the street by armed police. Onlookers said he made a fascist salute before being handcuffed.
The attack happened just days after a Nigerian migrant was arrested in connection with the death of an 18-year-old Italian woman, Pamela Mastropietro, whose dismembered body was discovered stuffed into two suitcases near Macerata.
Rally in Macerata
Separately, and also on Saturday, thousands of people rallied in Macerata, where the shooting incident happened, to condemn racism.
City officials had initially banned the event over concerns that violence may be waged by far-right groups. Authorities only authorized the march on Friday.
Italians and refugees peacefully marched through the city.