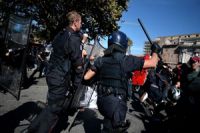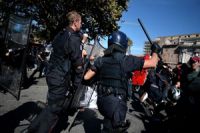 Italian trade unions have held an unexpected anti-austerity demonstration in the capital Rome ahead of a planned public strike next week against the government's tough economic policies.
The protest was staged on Friday at Rome's ancient Colosseum, where demonstrators, including the members of COBAS trade union, chanted anti-austerity slogans and demanded more job security in the country.
The protesters carried banners reading, "General strike, stop austerity. October 18, 2013."
The eurozone's third-largest economy has adopted the austerity measures to control its high public debt, which is currently 130 percent of its annual economic output.
Italy started to experience recession after its economy contracted by 0.2 percent in the third quarter of 2011 and by 0.7 percent in the fourth quarter of the same year.
Over the past decade, Italy has been the slowest growing economy in the eurozone.