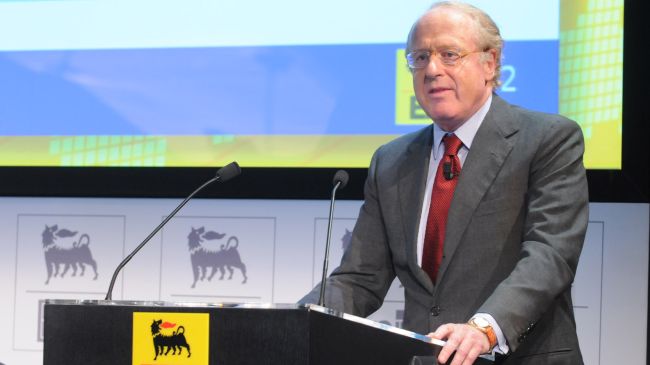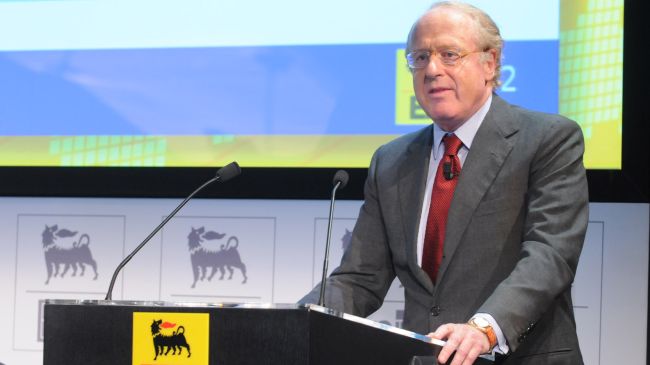 Italy's biggest oil and gas group, Eni, has been allowed to import over USD 1 billion worth of Iran's crude despite the Western sanctions against the Iranian oil sector.
The company's CEO Paolo Scaroni told the reporters on Friday that the company has obtained a special exemption from the sanctions which enables it to continue receiving Iranian crude despite the EU oil embargo on Iran.
"The amount is in a range of USD 1.0-1.4 billion," he was quoted by Reuters as saying.
Scaroni added that Eni was exempt from the embargo since it was the subject of a "special rule" granted by both the United States and the EU based on which the oil it receives from Iran is considered as the payment for the investments it has already carried out.
He stated that under the agreement, Eni will receive about 10,000 barrels per day of crude oil from Iran.
"The loss of Iranian imports can be painful for the Italian refining sector, which has been traditionally heavily dependent on Russian Urals crude and Iranian oil," Scaroni said.
Italy's crude imports from Iran accounted for 13.7 percent of the country's total oil imports last year, when Iran was Italy's fourth-biggest oil supplier, according to data from the country's oil refining industry body, Unione Petrolifera.
On January 23, EU Foreign Ministers met in Belgium and approved new sanctions against Iran aimed at banning member countries from importing Iranian crude oil and carrying out transactions with its central bank.
The EU's decision followed the imposition of similar sanctions by Washington on Iranian energy and financial sectors on New Year's Eve which seek to punish other countries for buying Iran oil or dealing with the its central bank.
The US and the EU accuse Tehran of pursuing military objectives in its nuclear energy program, using this pretext to impose sanctions against Iran and threaten the country with military attack.
Iran refutes the allegations, arguing that as a committed signatory to the nuclear Non-Proliferation Treaty and member of International Atomic Energy Agency (IAEA), it has the right to use nuclear technology for peaceful use.
The IAEA has never found any evidence indicating that Tehran's civilian nuclear program has been diverted towards nuclear weapons production.