Syria
Jaafari Accuses Lebanese Some Political Sides of Smuggling Arms to Syria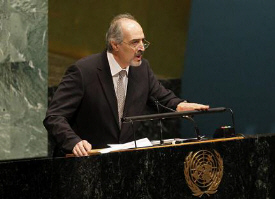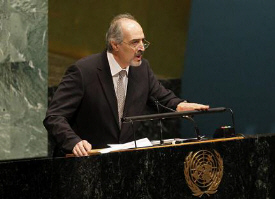 The Syrian ambassador to the United Nations accused some Lebanese sides of arms smuggling as he said that Saudi Arabia and Qatara were responsible for the deteriorating humanitarian situation of the Syrian people.
Talking during an emergency meeting of the UN Security Council, Bashar al-Jaafari on the humanitarian situation, Bashar al-Jaafari said that Riyadh and Doha should answer to the world for the turmoil in Syria.
"It is clear that certain states do not see the issue of humanitarian aid any way other than as part of a biased political agenda," he said.
He also stated that Saudi Arabia and Qatar are providing arms to the insurgents inside Syria.
"Syria feels a great bitterness and sorrow when we see some of our brothers living in tents on the border in dreadful conditions."
In addition, Jaafari slammed Turkey for allowing militants to set up training camps on its soil.
On the other hand, Jaafari said that arms smuggling from Lebanon was taking place "through some Lebanese political sides."
On the Lebanese complaint over the presence of about 20,000 Syrian refugees, Jaafari said: "The Lebanese ambassador handed a compliant over the Syrian refugees. However we have hosted half of the Lebanese people during July war."