Syria
Jalili: Supporting democracy in Syria, a sheer lie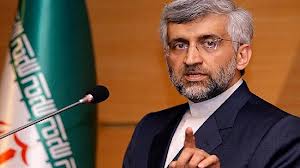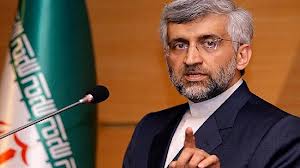 Secretary of Supreme National Security Council (SNSC) Saeed Jalili said the claims of certain countries for supporting democracy in Syria while simultaneously exporting arms and terrorism to that country is a sheer lie.
He made the remark in a meeting with the Syrian National Reconciliation Minister Ali Heydar on Tuesday.
He appreciated Syria's initiative in designating a minister for national reconciliation as very valuable and said Iran has always stressed that national dialogue is the only way out of the present situation in the country.
The Syrian minister, too, described ties between Iran and Syria as very spiritual, deep and unique and said the Syrian nation including the Shiite and Sunni people as well as Christians favor a diplomatic solution to determine their destiny.
He stressed that Imperialism as well as the global Zionism will never attain their goals in Syria.
Jalili, at the end of his one-day visit to Syria, departed Damascus for Tehran Tuesday evening.
During his visit, Jalili conferred with President Bashar al-Assad, Foreign Minister Walid al-Muallem and head of Syrian National Security Bureau Ali Mamlook.
He attended a press conference in the venue of Iran embassy in Damascus and answered questions of Syrian and foreign correspondents.
Jalili underlined that the sole solution for Syrian problem is democracy and respecting people choice.
The Iranian official also met with Lebanese officials in Beirut on Monday.
Syria has been the scene of unrest since March 2011. Because the presence of armed groups who are supported, financed and armed by Washington, Tel Aviv, Ankara, London, Paris, Berlin and certain Arab regimes.
Zionist Slaughterer Israeli spy chief says Tel Aviv supports regime change in Syria, amid ongoing efforts by the anti-Syria governments to oust President Bashar al-Assad.
"I hope it (regime change in Syria) will happen, even though I don't know when or how," Dan Meridor, who also serves as the deputy prime minister of the Tel Aviv regime, said on Tuesday.
He also expressed "hope" that the "new Syria will understand that joining Iran is a mistake that brings isolation from the Western world."
The latest remarks by the Zionist Salughterer Israeli official come as anti-Syria Western regimes along with Saudi Arabia, Turkey and Qatar have been supporting terrorists inside Syria.
Syrian President Bashar al-Assad said on August 1 that the country is engaged in a "crucial and heroic" battle that will determine the destiny of the nation.