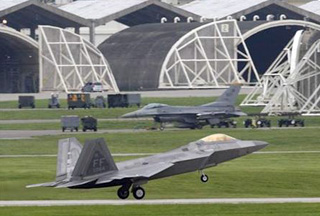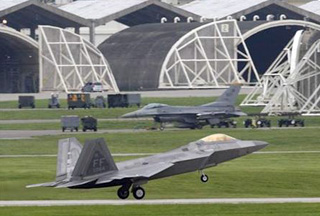 The Japanese island of Okinawa, which hosts a controversial US military airbase, plans to file a lawsuit against the government for failing to relocate the facility.
Ginowan mayor Yoichi Iha says he plans to file a lawsuit before March next year to question the government's policy in court.
The complaint will argue that the Futenma airbase threatens the safety of Okinawans and violates the country's constitution.
"We were forced to accept an excess burden of hosting the US base and denied even the basic human rights in our everyday lives. Therefore, I decided to question at court the government's policy in providing the Futenma airbase [to the United States]," Iha said in a news conference on Friday.
This comes after Japan's new Prime Minister Naoto Kan said he is committed to a deal reached in May to relocate the US base to Okinawa's Henoko region.
The island's governor has called the plan "absolutely in-excusable" and against the will of local residents.
The new premier took office last week after his predecessor Yukio Hatoyama was forced to resign over his failure to keep his election promise of moving the unpopular US base off Okinawa.
The Futenma base has provoked a wave of anger in the country, with the nation demanding a complete removal of the airbase off Okinawa.
Despite widespread criticism, the new premier has confirmed that he would honor the recent Japan-US deal to only move the base to a less crowded part of Okinawa.
Tens of thousands of people have held several rallies against the American military presence in the country over the past months.