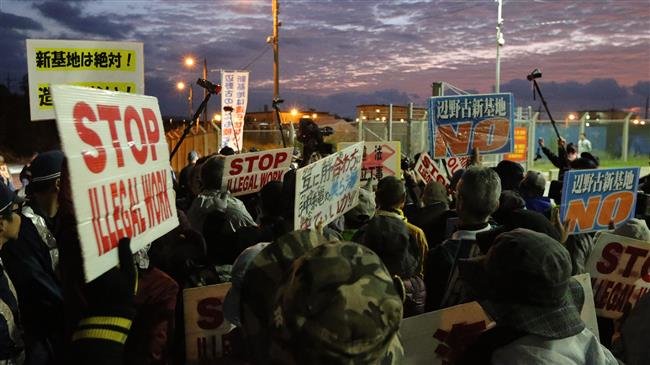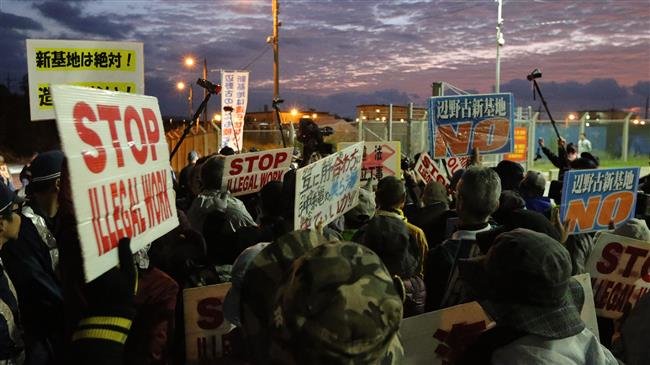 Japanese protesters in Okinawa and its governor have expressed "strong anger" at the resumption of government efforts to relocate a controversial US airbase to another part of Japan's southern island.
"I can't help but feel strong anger at the start of (land reclamation), which ignores the will of the Okinawan people," said island's Governor Denny Tamaki in a Friday press briefing amid a long-running demand by local residents for the relocation of the American base, situated in a populated part of the island.
Local media further reported that protesters demonstrated at the site of the new location for the US facility, including some who paddled out to sea in efforts to block the construction work.
Aerial television footage showed a mountain of soil piled up on the coast of Henoko in Okinawa's Nago city being placed into the sea as part of land reclamation work to erect the new base.
While the locals insist on moving the US military installation to another part of Japan, the government in Tokyo favors relocation of the airbase to a more remote site within Okinawa.
Moreover, Japanese government spokesman Yoshihide Suga reiterated on Friday that Tokyo regards the plan as "the only solution" to maintain an important American military presence in the country while addressing local concerns.
Japan reportedly looks to raise militarye spending to a record high level over the next five years amid Us pressure to buy more American weapons.
Prime Minister Shinzo Abe's administration has sought to relocates the unpopular Futenma base to a remote site in the island, part of which will be built through land reclamation.
This is while Okinawa's recently elected governor is also fervently against moving the base to elsewhere in the island, and has pressed the case earlier this year with Japanese authorities and also in a visit to the US.
The island's residents have for decades called for the removal of at least some portions of the huge US military facility amid an escalating resentment across Okinawa against repeated accidents and crimes committed by American troops and personnel stationed at the base.
Many locals feel the US naval and air facility should be moved to somewhere else in Japan, arguing that the task of hosting American forces should be more fairly shared across the Asian Pacific nation.
Although Okinawa accounts for less than only one percent of Japan's total land area, it hosts more than half of the nearly 47,000 American military service members stationed in Japan.
The development came as Okinawa prepares to hold a non-binding local referendum on February 24 about the relocation of the US base within the island.