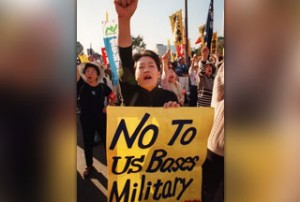 Thousands of Japanese from Tokunoshima Island have gathered to protest against the government's plan to relocate a US base to their island.
Mayors of the three local towns of Tokunoshima, Amagi and Isen organized the rally in the Kagoshima Prefecture.
About 4,200 took part in Sunday's demonstration.
"The government has never consulted with any of the three mayors about the issue," Tokunoshima Mayor Hideki Takaoka said.
Washington locked horns with Tokyo over the relocation of nearly 50,000 American troops from US Marine Corps Air Station Futenma in the southern section of Okinawa Island.
Foreign Minister Katsuya Okada said Japan is considering a two-stage process that would start with the construction of a helipad on the inland part of the US Marines' Camp Schwab in Nago, Okinawa, to temporarily handle some of Futenma's helicopter operations.
The government is considering building an artificial island off the coast of the US Navy's White Beach facility in Uruma, also on Okinawa, or Tokunoshima Island.
The presence of the US base which is in proximity of residential areas has caused various troubles for local Okinwans, who have expressed their dissatisfaction through repeated demonstrations.
"We cannot expose our children to noise and crime. We don't need a base here on this island of children, longevity and mutual corporation," a 39-year-old housewife said.
Official reports of child abuse and other crimes by American service personnel have been reported on the island.
A new survey conducted by the Sankei newspaper showed that more than 73 percent of respondents were unhappy with Japan's Prime Minister Yukio Hatoyama's management of the issue.
Nearly half of the voters believe Hatoyama should resign if he fails to resolve the problem by the end of May as he himself announced the May deadline.