Palestine
Jewish graffiti insult Prophets Muhammad and Jesus in Lod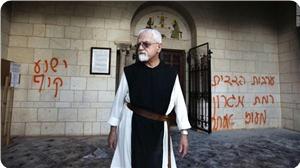 Fanatic zionist settlers thought to be from the price tag gang on Sunday morning spray-painted blasphemous remarks against Prophets Muhammad and Jesus on public property in the Arab city of Lod, southeast of Tel Aviv.
Senior Islamic Movement official in the city Ismail Abu Marsa stated that many citizens were surprised to see in the morning graffiti insulting the Prophets of Muslims and Christians at a public bus station to the west of Lod.
Abu Marsa added that such act reflected the amount of hatred the Jewish extremists have against other religions and exposed further the reality of Israel, which claims to be a democratic country.
He expressed his belief that such abusive remarks were a message to Pope Francis of the Vatican, who is on a three-day visit to the occupied Palestinian lands and Jordan.