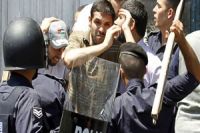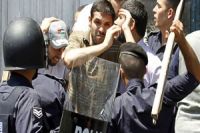 At least three people have been injured after Jordanian police attacked a pro-reform demonstration in the northern city of Irbid.
Witnesses say police used tear gas to disperse the demonstrators who were calling for political and economic reforms in the kingdom on Friday.
Pro-reform rally in Irbid comes almost two weeks after Jordan's smallest government in four decades, led by Prime Minister Abdullah Ensour, took office.
Jordanians have been holding street protests demanding political reforms, including the election of the prime minister by popular vote, and an end to corruption, since January 2011. Currently the king appoints the prime minister.
Since the beginning of protests, Jordanian ruler, King Abdullah II, has sacked four prime ministers in a bid to avoid more protests. Ensour is Jordan's fifth premier in two years.
Jordanians, however, say Ensour, who claims to be a reformist, will not introduce real reforms and that his government will be a failure just like past governments.