Palestine
Jordanian protestors slam their gov't for ignoring its citizens in Israeli jails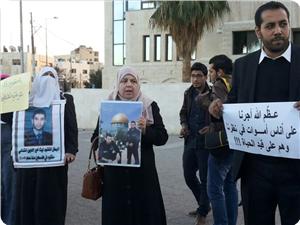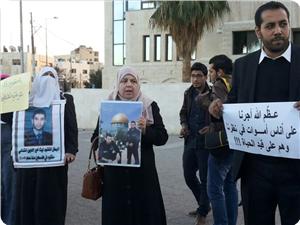 Jordanian citizens held on Saturday afternoon a rally outside the cabinet headquarters in Amman in protest at the government's inaction on the issue of the Jordanian prisoners in Israel's jails, especially its reluctance to save the life of hunger striker Alaa Hammad.
The Islamic youth movement of solidarity with the Jordanian prisoners, which organized the protest, said that the sit-in is considered a "memorial service" for the Jordanian government's efforts towards the file of its citizens in Israeli jails.
The families of the Jordanian prisoners, who participated in the rally, called for removing Naser Judeh from his post as the minister of the foreign affairs, while some protestors carried banners criticizing the absence of any Jordanian official role in this regard.
The protestors also held banners in solidarity with the prisoners and chanted slogans demanding their government to intervene to release its citizens from Israeli jails and enable their families to visit them.
"What is the government waiting for? Is it waiting until our sons return in coffins? Why is it not taking action until now? Is it because of the shameful agreement signed with the occupation?" the mother of Jordanian detainee Alaa Hammad, who has been on hunger strike for more than 213 days, said during the protest.
She appealed to Jordanian king Abdullah bin Al-Hussein to urgently intervene to save the life of her son who has become in serious health condition because of his long hunger strike and to enable her to visit him regularly in jail.