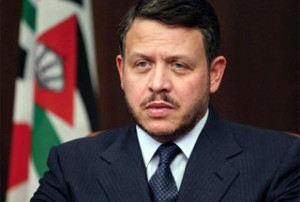 Jordan's King Abdullah II has censured Israel for its illegal settlement works in occupied Palestinian lands, warning that the stalled peace talks may put the regime's future in "jeopardy".
Abdullah sharply rebuked Israeli Prime Minister Benjamin Netanyahu for his settlement plans in East al-Quds (Jerusalem), saying the regime's construction efforts in the region could ignite a new regional war.
"[It] looks like there is an attempt by certain groups to promote a third intifada, which would be disastrous," said the Jordanian king in an interview with The Wall Street Journal.
He also warned, "I think the long-term future of Israel is in jeopardy unless we solve our problems."
"So with all these things in the background, the status quo is not acceptable; what will happen is that we will continue to go around in circles until the conflict erupts, and there will be suffering by peoples because there will be a war," king Abdullah told the prominent US financial daily.
Abdullah, who is to leave for Washington next week for US President Barack Obama's Nuclear Security Summit, said he will push the Obama Administration to impose specific terms on the Tel Aviv regime for a timeline in the resumption of 'peace talks' with the Palestinians.
"I think wasting too much time is something that we all have to be very concerned about because there is tremendous tension" in the region, said the monarch.
King Abdullah also warned the Tel Aviv regime about the Jordanian-Israeli relations that has hit the lowest point "since my father made peace with Israel… It hasn't been as bad as it is today and as tense as it is today."
On October 26, 1994, Jordan and Israel signed a peace treaty under which diplomatic relations between the two regimes were established.