Human Rights
Iran
Judiciary Chief Stresses Iran's Respect for "True Principles of Human Rights"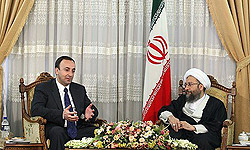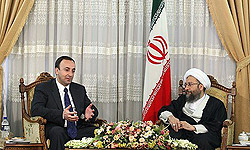 Iran's Judiciary Chief Ayatollah Sadeq Amoli Larijani blasted the West's instrumental use of human rights issues, and stressed the Islamic Republic's strong support for the true codes and standards of human rights.
"The Islamic Republic of Iran's support for human rights is a support based on value and religion, while the West has a fully instrumental look at human rights," Larijani said in a meeting with visiting Armenian Justice Minister Hrayr Tovmasyan on Monday.
He also said Iran regards respect for "true human rights" a fundamental principle, and said Tehran will not give in to the western pressures exerted on Iran to make the country follow the western standards.
The Armenian justice minister, for his part, voiced pleasure in his trip to Iran, and appreciated the country's officials for their "proper treatment" of religious minorities.
He also called for further expansion of ties between the two countries in judicial and legal fields.
Iran has always lashed out at the western countries for using human rights issues as a tool and pretext for pressurizing independent states to conceal their own crimes and wrong deeds.
Iranian President Mahmoud Ahmadinejad in November 2010 lambasted the continued violation of human rights by certain European countries, and asked them to listen to the demands of their people.
The Iranian Foreign Ministry in 2010 issued a report on the violation of human rights by the US inside and outside its borders, and urged Washington to join the international conventions which prohibit such crimes.
It was stressed in the Foreign Ministry report that the United States, as a self-proclaimed standard bearer of defense for the human rights in the world, has despite the international community and the UN demand, and even despite President Barack Obama's promise, still not shut down the horrendous Guantanamo and Abu Ghraib prisons.
The report added that the United States has not yet joined the most important convention related to the economic, social and cultural rights that is among the most important human rights documents.
The Children's Rights Committee of the United Nations, too, has announced that the United States has been one of the greatest producers and distributors of the world child pornography products, while it is now one of the only two countries in the world that have not yet joined the International Children's Rights Convention.