Europe
Human Rights
Junior doctors' union confirms industrial actions as talks with govt. fail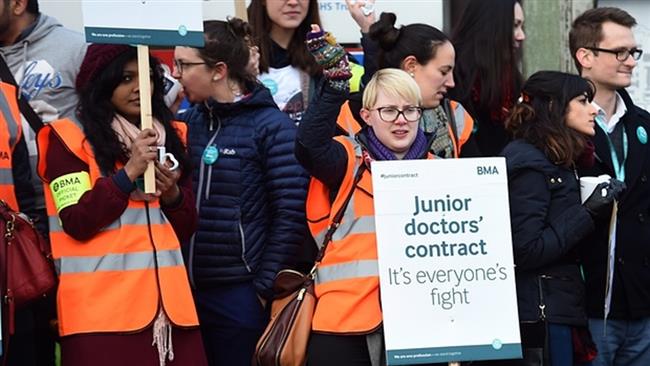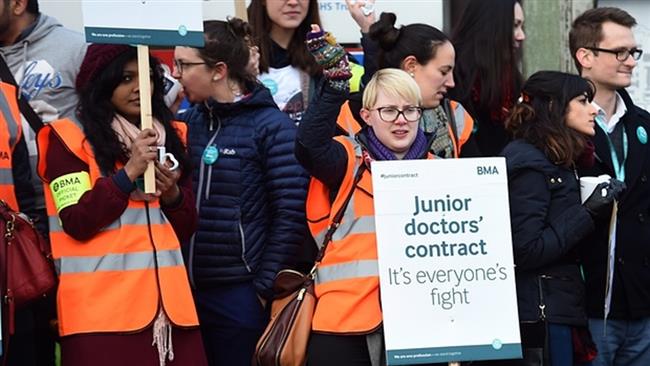 Top officials at Britain's National Health Service are trying to avert a strike as junior doctors confirm they will go ahead with a planned industrial action next week.
Doctors accuse authorities of being "left with no alternative" but to go on strike following talks on the new proposed contract.
About 38,000 medical trainees observed a 24-hour walkout on January 12. The British Medical Association then suspended plans for two days of industrial action due to start on 26 January citing progress in talks with the government. Jeremy Hunt, Health Secretary also said that the government's "door is open" to avert the crisis.
But days of negotiations failed to make a breakthrough. The government has also warned that it could push ahead with imposing the controversial contract in case of no agreement.
The BMA has accused the government of dragging its feet and warned that the junior doctors will strike as planned on February 10, providing only emergency services.
"It is particularly frustrating the government is still digging in its heels. We have talked in good faith over the past few months, but have seen no willingness on their part to move on a core issue for junior doctors", Dr Johann Malawana, BMA junior doctor committee chairman, said.
"The government misrepresents junior doctors as a block to a seven-day NHS, but they already work every day of the week. We are asking that this is reflected in fair and affordable recognition of unsocial hours."
Meanwhile, a senior NHS boss has appealed the junior doctors to avoid the industrial action. Sir David Dalton has sent letters to all the 45,000 trainees asking them to change their mind. The letter is seen as an attempt to divide the doctors' community. It is also likely to anger the BMA which has been accuses of thwarting the chances of a deal by refusing to budge on the key sticking point in the talks.
Junior doctors' normal working week runs from 7am to 7pm Monday to Friday. However, Hunt angered juniors by threatening to impose a contract that would extend the timing to 10pm on weekdays and classify Saturdays from 7am to 10pm as normal but denying them of odds hour benefits.
The upcoming walkout will show whether there is division within the ranks of the BMA. Hunt has said that he is ready to tough out a potential series of walkouts in the belief that fewer and fewer junior doctors will take part.
Junior doctors are qualified medical practitioners who are working while studying for postgraduate qualifications to become consultants or general practitioners. They make up around half of the medical workforce in Britain.
The doctors are angry about new contract, which will see a cut in the number of shifts classed as "unsociable" and paid at the premium rate.They are also opposed to the government's offer of 11-percent wage hike on normal shifts.
As the first strike drew public sympathy with doctors, hope grew that Hunt and BMA can reach a deal over working conditions. The upcoming walkout is expected to create yet another chaos in the health sector as thousands of operations, procedures and appointments will be cancelled when junior doctors will provide only emergency care during the strike hours.