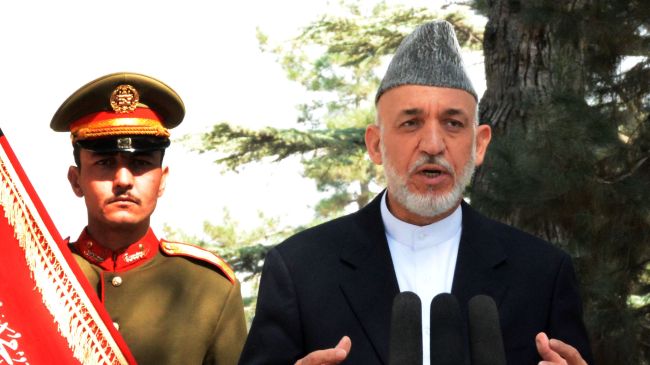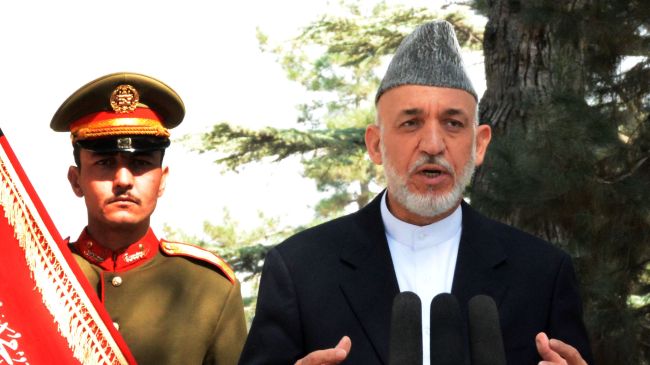 Afghan President Hamid Karzai says he may not sign a bilateral agreement with the United States that would allow US forces to stay in Afghanistan beyond 2014.
In an interview with the state-run BBC in Kabul, Karzai said he would consult the traditional Afghan grand assembly before signing the pact.
"The agreement [with the US] has to suit Afghanistan's interests and purposes. If it doesn't suit us and if it doesn't suit them, then naturally we will go separate ways," Karzai said.
The Afghan president also condemned US-led NATO forces for causing a lot of pain to the Afghan people, saying, "On the security front, the entire NATO exercise was one that caused Afghanistan a lot of suffering, a lot of loss of life, and no gains because the country is not secure."
The United States is pushing for the Bilateral Security Agreement (BSA) to be signed by the end of October 2013.
The Afghan president had officially suspended BSA negotiations in June to show his strong opposition to the opening of a Taliban office in Qatar. Karzai stated that the opening of the office contradicted earlier US security guarantees to his government.
The Taliban militant group was removed from power by the US-led invasion of Afghanistan in 2001.