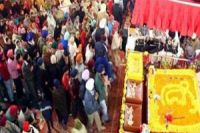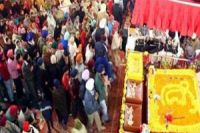 In Indian-controlled Kashmir, Shia and Sunni Muslims have held unity prayers on the occasion of Eid al-Ghadir in remembrance of Prophet Mohammad's (SAWA) famous sermon.
Muslims particularly Shia community in Indian-controlled Kashmir marked Eid al-Ghadir by sending the message of peace across the Muslim world. Congregational ceremonies took place in different parts of the region as a reminder to awaken the conscience of all jurisprudential schools of Muslims to live in harmony and brotherhood.
Eid al-Ghadeer marks the anniversary of Prophet Mohammad's (SAWA) proclamation of Imam Ali (AS) as his immediate successor, on the express commandment of God Almighty, following revelation of ayah 67 of Surah al-Ma'edah.
The occasion is marked on the 18thof Zil-Hijjah in the Islamic calendar. Islamic Scholars believe at a time when anti-Muslim elements are creating rifts amongst Muslims, occasions like Eid al-Ghadeer are a reminder to the Muslims to stick to the path taught by the Prophet.
In Indian-controlled Kashmir Eid al-Ghadeeer is marked with reassertion to stay committed to Prophet Mohammad's (SAWA) teachings and belief.