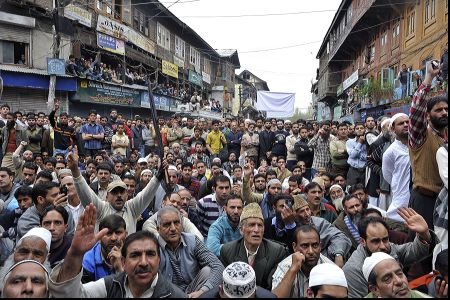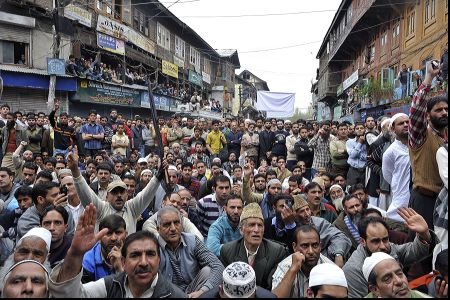 Thousands of people have rallied to protest the killing of a leading cleric last week In Indian-administered Kashmir amid rising tensions against New Delhi's rule.
The protesters gathered in Srinagar's Maisuma area on Friday. They demanded an investigation and punishment for those involved in the murder.
Key Kashmiri separatist leaders also attended the rally and addressed the protesters.
"We should think whether this killing has not endangered the life of religious and other leaders or put our mosques and shrines at risk," said Yaseen Malik, head of the pro-independence Jammu and Kashmir Liberation Front.
A Muslim cleric and an influential moderate separatist Mirwaiz Umar Farooq vowed that the protests would continue until the killers are exposed.
Moulana Showkat Ahmed Shah was killed in a bomb explosion in Srinagar minutes before last week's Friday prayers.
The prominent leader was a well-known supporter of the separatist movement, which wants independence from India.
Pro-independence activists described it as an attack on the Kashmiri freedom movement.
Over 110 people were killed last summer during protests against Indian rule.
Political analysts say the frequent street protests over the past two years are giving new life to the Kashmir liberation struggle.
New Delhi has been repeatedly criticized for resorting to force rather than finding a diplomatic solution to the dispute.
The conflict in Kashmir has left tens of thousands of people dead over the past two decades.