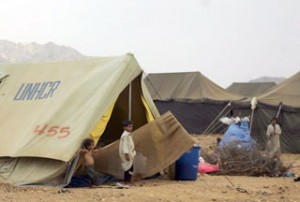 A leading Islamic clerical establishment in Iran has condemned the indiscriminate killing of Shia civilians by Yemeni government forces.
"News of the unfortunate crackdown against Yemeni Muslims and Shias by the country's government forces… has left the Muslim world in great sorrow," the Society of the Seminary Teachers of Qom said in a Friday night statement.
The Shia establishment also condemned human rights organizations for staying silent about the massacre and indirectly attacked the Saudi Arabian government for launching its own military offensive against northern Yemen.
"The direct interference of certain Arab regimes in the ethnic cleansing of Shia and the silence adopted by the Organization of the Islamic Conference (OIC) and international human rights establishments about this atrocity leaves room for thought."
The statement warned Islamic countries that "enemy forces are trying to instigate genocide and discord in the Muslim world," urging them to abandon military conflict.
The Society urged the Iranian government and the OIC to employ all diplomatic means to end the bloodshed and asked Shias worldwide to show their objection to the killing of innocent members of their religious community.
Although the conflict goes back several years, the Yemeni military initiated a new wave of violence by launching a major offensive – dubbed Operation Scorched Earth – against local Houthi fighters in the northern province of Sa'adah on August 11.
The government says that the fighters, who are named after their leader Abdul Malik al-Houthi, seek to restore the Shia Zaidi imamate system, which was overthrown in a 1962 coup.
The Houthis argue, however, that they are defending their people's rights against the central government's marginalization policies adopted under the influence of Saudi-backed Wahhabi extremists.
The Saudi air force has further complicated the conflict during the past fortnight by a deadly offensive against Houthis, accusing the Shia resistance fighters of killing two Saudi soldiers on the border.
While Riyadh claims that its offensive targeted Houthi positions on 'Saudi territory', the fighters say Yemeni villages were being bombarded.
Shias, who form the clear majority in the north, make up approximately half of Yemen's overall population.
Yemen's Sa'adah province borders the southwestern Saudi province of Asir where Saudi Ismaili Shias live.
According to UN figures, the recent unrest has displaced around 75,000 people, bringing the total count to 175,000 since 2004.
Figures released by the UN Children's Fund (UNICEF) indicate that the unrest has also directly affected up to 75,000 children.