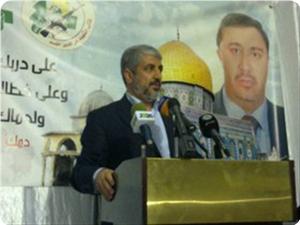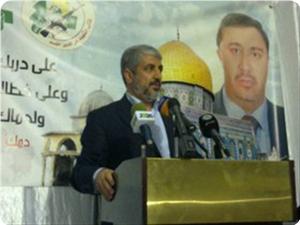 Political bureau chairman of Hamas Khaled Mishaal has said that resistance and martyrdom would remain his movement's strategic option to achieve liberation of Palestine.
Addressing the last day in the mourning ceremony of late Hamas leader Kamal Ghannaja, who was found dead in his apartment in Damascus a few days ago and buried in Amman, Mishaal said that all media and political moves would be in service of that option.
He said that other paths did not bear fruit while that of resistance and martyrdom was fruitful.
Mishaal heaped praise on the martyr who sacrificed all his life for the sake of the Palestine cause.
He said that his movement would continue along the road of the martyr Ghannaja, saying that there is no other road.
Victory is approaching, Mishaal said, adding that changes in the Arab region address a message to the "Zionist enemy" mainly that its days are numbered.
The Hamas leader said that the election of Mohammed Morsi as president in Egypt heralded a new renaissance in that big Arab country that would spur similar renaissance in the Arab and Islamic Umma.
He finally thanked Jordan for allowing his visit and for embracing the mourning ceremony.