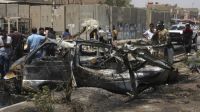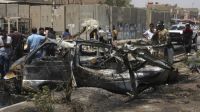 Iranian lawmaker Seyyed Baqer Hosseini says the lackeys of the West are committing crime against humanity by martyring the Muslim people of Iraq.
According to IRIB, Hosseini added "Killing people is not acceptable in any religion and those who embark on massacring people do not believe in any religion and are only slaves to the West's money to wage war in the region."
He also pointed to the recent deadly bomb attacks in Iraq and noted that the countries behind the bombings are trying to separate the Arab state from the resistance front against the Zionist regime.
At least 23 people were killed and more than 60 others were wounded in a string of bomb attacks in and around the Iraqi capital, Baghdad on Thursday.
Hosseini pointed out "Implementing such scenarios in the countries which support the anti-Zionist resistance front is a plot the Zionist regime pursues by provoking extremist groups; therefore, the Iraqi nation should resist against these plots and remain completely vigilant".