Syria
Kings unpopular at home talk of reform in Syria: Ahmadinejad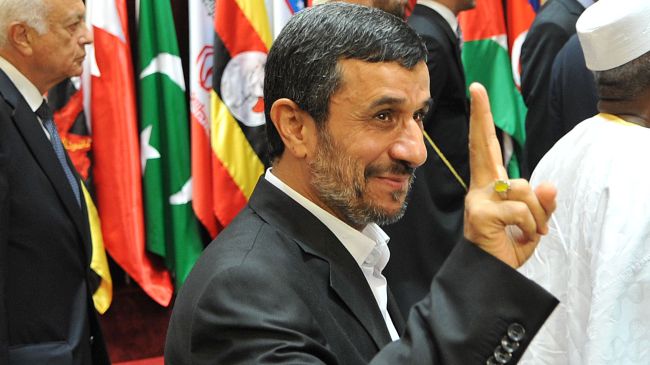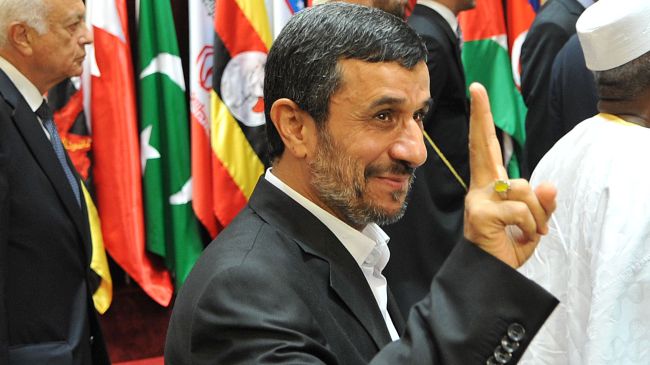 Iran's President Mahmoud Ahmadinejad says he was surprised, during a recent summit in Saudi Arabia, to see the monarchs of certain countries speak of the need for reforms in Syria while their own rules were unpopular at home.
Referring to the recent meeting of the Organization of Islamic Cooperation (OIC) in Mecca, Ahmadinejad said "I was surprised in this summit [to see] that the kings of some countries were speaking against Syria while the majority of their own people do not want them [to rule]."
The Iranian president made the comment in a Wednesday meeting with his Turkish counterpart Abdullah Gul on the sidelines of the OIC emergency meeting in Saudi Arabia.
During their meeting, Ahmadinejad underlined the inevitability of reforms but added, "I am of course waiting to see when these reforms will reach the other countries in the region."
Killings and war cannot be employed to acheive reforms, the Iranian president pointed out.
Noting that all nations desire justice, freedom and respect, he emphasized that "no one can win by force," and a government that comes to power by force cannot remain independent.
The Iranian chief executive further reiterated that the Islamic Republic is prepared to do whatever it can to establish a calm, humane and fair environment in Syria "so that people will no longer be killed and the situation will not get complicated."
President Gul, for his part, underlined his country's friendship with Iran and asserted that Turkey was pursuing its principles, including the the establishment of peace.
The two-day emergency meeting of the OIC members was held upon the request of Saudi King Abdullah bin Abdul Aziz in Mecca to address major issues facing the Muslim world as well as the latest developments in the region.