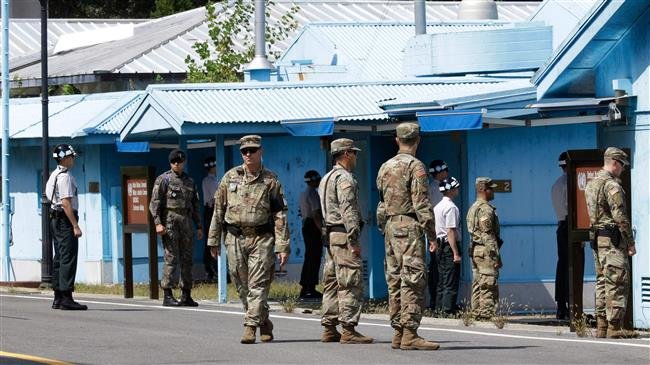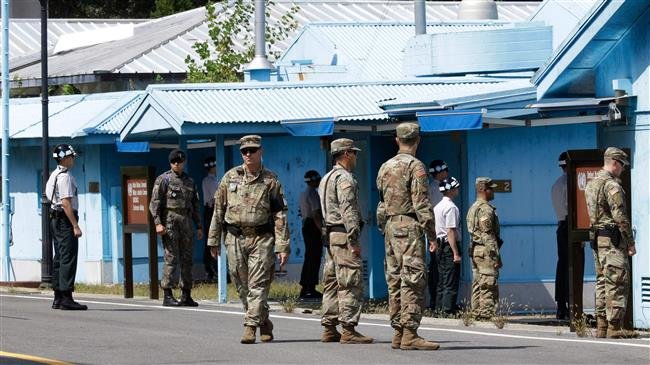 South and North Koreas have officially launched the demilitarization process of a border village, Seoul says, as part of an agreement to ease tensions on the Korean Peninsula.
The South Korean Defense Ministry announced on Thursday that the two Koreas had started removing all firearms and guard posts from the Joint Security Area (JSA) — also known as the truce village of Panmunjom.
As part of an inter-Korean military pact, the zone will then be guarded by 35 unarmed personnel from each side and "freedom of movement" will also be allowed for visitors and tourists.
The JSA is the only spot along the tense 250-kilometer frontier between the two Koreas where troops from the two countries and the US-led United Nations Command (UNC) stand face to face.
Washington has expressed unease over the measure, saying there is a "reasonable degree of risk" in Seoul's plans to dismantle guard posts near the Korean Demilitarized Zone (DMZ).
Back in June, US President Donald Trump met the North's leader in a summit in Singapore, during which the two sides agreed to work toward denuclearization.
But that agreement has produced no tangible outcome.
The North has already taken several steps toward that goal, but the US has not reciprocated any of those moves.
Last month, South's President Moon Jae-in and North Korean leader Kim Jong-un signed a deal at a summit in the North's capital, Pyongyang, under which both sides agreed to halt military exercises, gradually remove landmines and guard posts within DMZ, and establish an extensive no-fly zone near their border.
North and South Korea and the UN command agree to remove firearms and guard posts from the common border.
The two Koreas are still technically at war since 1953, when a war between them ended in a truce agreement and not a peace treaty. However, bilateral ties have improved significantly since January this year.
The US-led UNC has overseen affairs in the DMZ since the end of the war.
The Korean War left millions of people dead or missing, and Seoul officials believe the remains of about 10,000 South Korean soldiers alone are still inside the DMZ.