Saudi Arabia
KSA-'Israel' Secret Meetings: Turki Al-Faisal Meets Barak's Advisor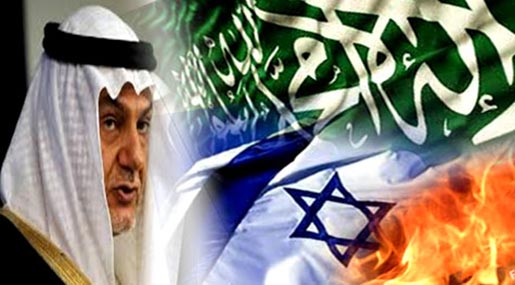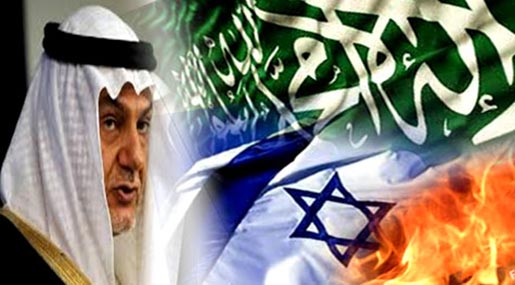 Days ago the Saudi billionaire Talal bin Abdul Aziz, announced brazenly that he is ready to stand by the historical enemy of Arabs and Muslims , " Israel", in any aggression that seeks to destroy the nuclear program of the Islamic Republic of Iran.
Hours later, a new evidence of the "Israeli"-Saudi rapprochement emerged.
Some high-ranking Saudi officials met with "Israelis".
In details, the "Arabs' Secrets" website, posted a video that showed Saudi Prince Turki al-Faisal, who was the head of the kingdom's National Intelligence Agency, meeting a senior "Israeli" official , in the presence of a professor from the Department of Islamic Studies at US George Town University.
According to the video , the Saudi prince and the "Israeli" official, Yossi Alpher, discussed how to deal with political Islam in the Arab region.
It also seemed that the meeting included other people , but they contented themselves with few interventions and comments, while the basic remarks were limited to the three figures: the Saudi prince , the "Israeli" official , and university professor .
According to information , the "Israeli" official Yossi Alpher was the special adviser to former "Israeli" Prime Minister Ehud Barak .
He was also one of the "Israeli" intelligence [Mossad] officers.
This video less than two weeks on the Sunday Times report, which revealed that the Saudi Prince Bandar bin Sultan, held regular meetings with "Israeli" officials and senior Mossad officers. The aim was to escalate coordination to confront the common enemy, Iran .
According to the report, Saudi Arabia has given a green light to the "Israelis" in order to use its airspace in any military strike Tel Aviv decides to wage against Tehran .
Source: Al-Ahed news