Syria
Kurdish Fighters Torch 2 Oil Tankers Stolen by Al-Qaeda in Reef Yarubiya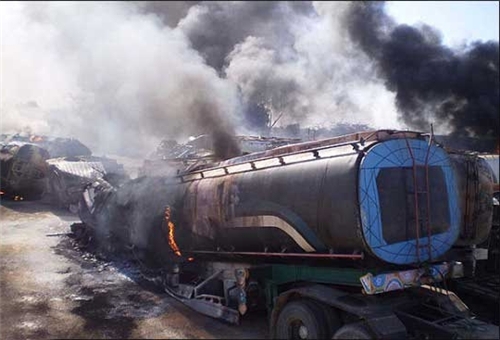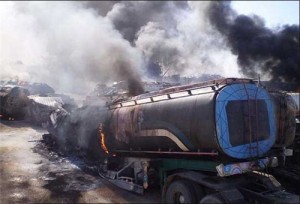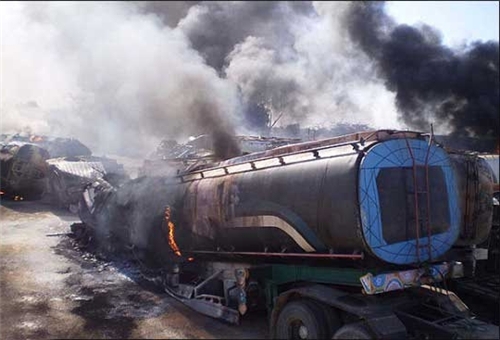 The Kurdish fighters made major advances against the Al-Qaeda terrorists in Reef (countryside of) Yarubiya and set ablaze two oil tankers stolen by the militants.
Kurdish militants from Committees for the Protection of the Kurdish People seized and torched two crude oil tankers that the Al-Nusra Front terrorists had stolen from Al-Fazel Fuel Station in Reef Yarubiya.
Meantime, the Syrian Kurdish fighters also made major advances in Tal Halaf and Mosharefeh towns in Hasaka Province.
The Syrian Kurdish fighters have intensified their attacks against the Al-Qaeda-linked terrorists in recent weeks.
On Saturday, the Kurdish fighters seized the sole border post held by Al-Qaeda-linked groups on their border with Iraq, Kurdish sources and an Iraqi official said.
Kurdish militants seized the border post on Saturday, after three days of clashes with an Al-Qaeda-linked group which had held the crossing since March, Al-Alam reported.
According to the armed Kurdish group YPG, fighting carried on through the morning.
The Yarubiya post and surrounding areas in the Northeast were taken from the Islamic State of Iraq and the Levant terrorist group which is an offshoot of Al-Qaeda in Syria. An Iraqi intelligence official confirmed that Kurdish rebels held the crossing point, adding that Baghdad brought reinforcements to the area to prevent any spillover of violence.
"There were heavy battles in which all types of weapons were used," said the Iraqi official on condition of anonymity in line with regulations. "Iraqi forces are ready to repel any attack."
Kurdish groups control a large swath of Northern Syria. Clashes between their fighters and militants have killed hundreds of people in the past months.
Syria has been experiencing unrest since March 2011 with organized attacks by well-armed gangs against the Syrian police, border guards, statesmen, army and civilians being reported across the country.
Thousands of people have been killed since terrorist and armed groups turned protest rallies into armed clashes.
The government blames outlaws, saboteurs, and armed terrorist groups for the deaths, stressing that the unrest is being orchestrated from abroad.