Iraq
Kurdish forces withdraw to June 2014 line: Iraqi commander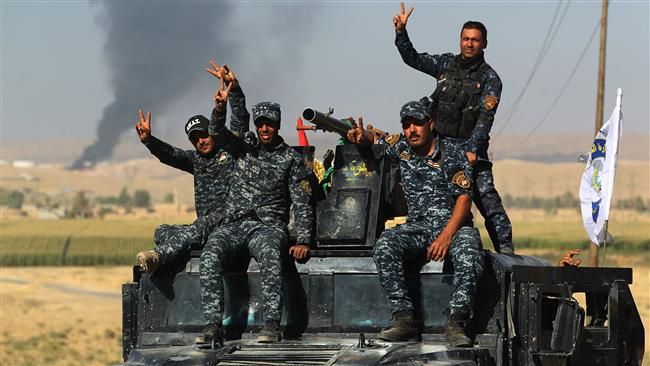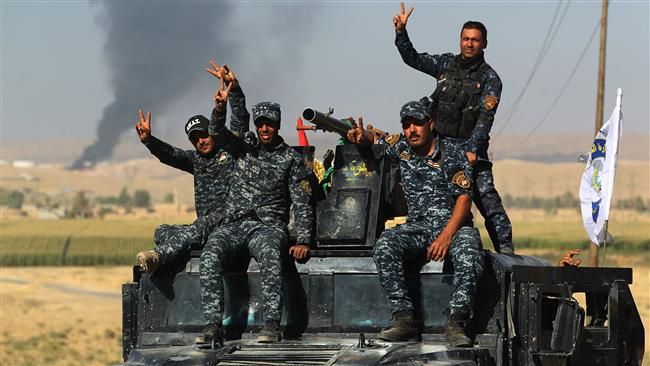 A senior Iraqi military commander says Kurdish Peshmerga forces have pulled back to the positions they held in June 2014, before the Daesh Takfiri terrorist group swept through the Arab country.
The commander told Reuters on Wednesday that the withdrawal came after the Kurds handed over their positions in the northwestern Nineveh Province to Iraqi troops.
Additionally on Wednesday, Iraqi forces said that they had achieved their objectives in a 48-hour operation against Kurdish forces in the disputed areas.
"Security has been restored in sectors of Kirkuk. Forces have been redeployed and have retaken control of Khanaqin and Jalawla in Diyala province, as well as Makhmur, Bashiqa, Mosul Dam, Sinjar and other areas in the Nineveh plains," the federal government's Joint Operations Command said.
Earlier in the day, the Iraqi military said in a statement that government forces had managed to retake control of parts of the northwestern Nineveh Province that were controlled by the Kurdish forces over the past three years.
The Nineveh areas were evacuated by Kurdish forces before the arrival of Iraqi soldiers, the statement read.
Kurdish forces have been holding parts of the Iraqi territory since 2014, when they joined the fight against Daesh.
Baghdad has long wanted the Kurds to pull out of the territories they seized during their advances against Daesh.
On Monday, Iraqi government forces and allied fighters entered the disputed oil-rich city of Kirkuk. Kurdish Peshmerga forces withdrew without a fight and thus Iraqi troops recaptured some neighborhoods, the Kirkuk provincial governor's office, key military bases and several oil fields.
The oil fields won back accounted for over 400,000 of the 650,000 barrels per day that Iraq's semi-autonomous Kurdistan Region used to export.
The last Kirkuk oil field still in Kurdish hands is the Khurmala field, south of Erbil, the main city in Iraq's northern Kurdistan region.
On Tuesday, the Izadi Kurdish town of Sinjar, situated in Nineveh Province, was also retaken from the Kurdish forces.
The developments followed weeks of simmering tensions between Baghdad and the Kurdistan Regional Government over a recent controversial referendum on the secession of the Iraqi Kurdish region.
The plebiscite took place on September 25, sparking strong objection from Baghdad. Iraq's neighbors and the international community also voiced concerns about the repercussions of the vote, which was only supported by Israel.
Prime Minister Haider al-Abadi said on Tuesday that the independence referendum was now "a thing of the past," adding, "Central authority must be imposed everywhere in Iraq."
President Fuad Masum also blamed the Kurdish vote for triggering Baghdad's operation.
"Holding a referendum on the Kurdistan region's independence from Iraq stirred grave disagreements between the central government and the government of Kurdistan," he said.