Palestine
Kushner arrives in Palestine amid protests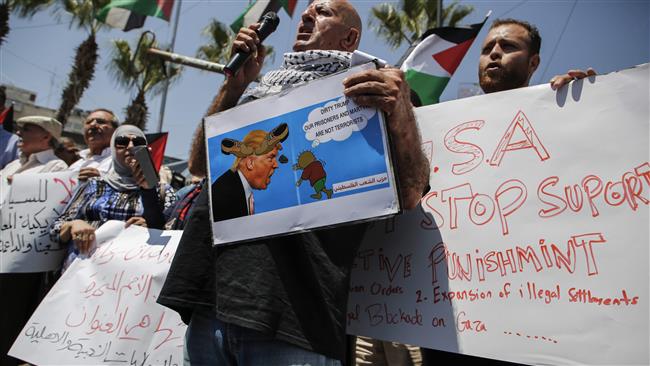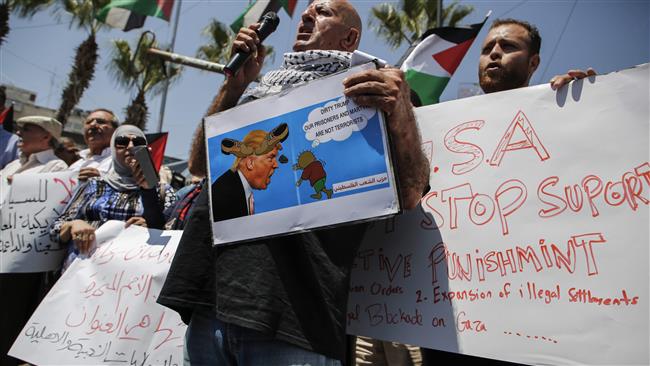 US President Donald Trump's son-in-law and senior adviser, Jared Kushner, has arrived in Palestine amid protests over Washington's favoritism towards Israel in resolving the decades-long stalemate in the occupied territories.
Dozens of angry protesters marched in the occupied West Bank city of Ramallah on Thursday, as Kushner entered the city to meet with Palestinian authorities in hopes of sealing the "ultimate deal" that Trump has so ardently touted ever since taking office.
Chanting "the American is not welcome," the protesters expressed their disappointment with the Trump administration and its Israel-first approach.
The pessimism is prevalent among Palestinian authorities as well, who at first welcomed Trump's election, thinking he was going to change things around.
Perhaps the frustration was best echoed by Ahmed Majdalani, a senior Palestine Liberation Organization official, who blasted Trump's lack of plan on Thursday.
"The American administration has not presented any initiative until now, while the Israelis continue with their settlement activities and refuse to abide by obligations they signed up to," said Majdalani, who is close to President Mahmoud Abbas.
A problem called Trump
More than eight months into his presidency, Trump has yet to make a clear stance on the decades-long Israeli-Palestinian conflict. In fact, the Republican president's statements have always been tainted by a degree of bias towards Israel.
In a White House press conference with Israeli Prime Minister Benjamin Netanyahu, Trump made a U-turn on decades of US policy in favor of a so-called two-state solution by saying he would not insist on it if it seemed too out of reach.
Trump's lax stance on Israel's settlement activities has deteriorated the situation by encouraging the Tel Aviv regime to approve thousands of more units, drawing fire from Palestinians and the international community alike.
Seemingly undisturbed by the consequences of his policies, Trump has promised to relocate the US embassy in Tel Aviv to Jerusalem al-Quds, a move guaranteed to prompt a strong response.
The prospect of Trump's promised "ultimate deal" on the Israeli -Palestinian conflict fades away even further when a wide array of his domestic struggles, such as the ongoing Russian "collusion" case, the Democratic obstructionism and a widely divided Republican Party, are factored in.
Abbas, Netanyahu keep up hope
Abbas tried to remain optimistic after his meeting with Kushner, hoping for progress towards Trump's "peace deal."
However, even the Palestinian president could not hide his frustration with the Trump White House when he met with an Israeli delegation earlier this week.
"I don't even know how they are dealing with us, because his entire administration is in chaos," he told the visiting left-wing Israeli senators.
Before meeting with Abbas, Kushner met with Netanyahu and told him that Trump was "very committed" to help broker a deal.
Bibi thanked Kushner and the Trump administration for their efforts and said a deal was "within our reach."
Kushner's choice
All that aside, it seems that Kushner has been the wrong choice for the job. While Trump has tasked his son-in-law to work out conflicts in Iraq and Palestine, there remains to be seen any sign of progress.
Kushner himself seems unsure about his ability. According to leaks, he recently told a group of congressional interns that there may not be a solution to the conflict in Palestine.
Before heading to Israel, he discussed the issue with other leaders around the Middle East, including in Egypt, Saudi Arabia and Jordan.