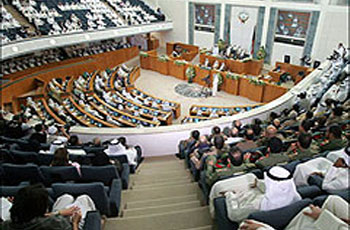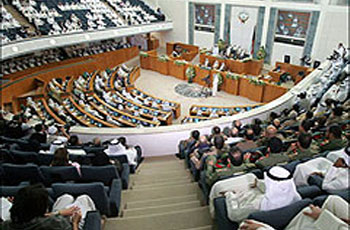 Foreign affairs committee of Kuwait's National Assembly agreed with banning visits by Kuwaiti nationals to 'Israel', meeting with its officials or signing any agreements with its representatives, Kuwait's al-Watan newspaper wrote on its website Saturday.
The legislative committee of Kuwait's National Assembly said the draft law was aimed at underlining the principle of banning engagement with the Zionist regime after its opposition to resolutions issued by international organizations about stopping attacks on Palestinian people, repeated threats and attacks on the al-Aqsa Mosque and blockade on any religious ceremonies inside the mosqu, continued excavations in the mosque that threaten its buildings and facilities, illegal and inhumane move of attacking the Freedom Flotilla and isolating individuals trying to help the people of Gaza and reduce the negative impacts of the siege on them.
The draft law also bans importing or exchanging any products or goods made by the Zionist regime. Any trade with the regime which includes securities or other movable assets of the regime in Kuwait is also forbidden.
The violators of the law will be punished with 3 to 10 years in prison. The Kuwaiti Premier and Ministers are obliged to obey the law.