Middle East
Kuwaiti ex-MPs get jail terms for 'insulting the emir'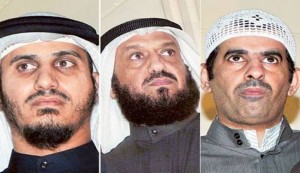 Kuwaiti Supreme Court has sentenced three former opposition lawmakers to 20-month suspended prison terms for publicly insulting the country's ruler, overturning an acquittal by the appeals court.
The court, whose rulings are final, also ordered Falah Al-Sawwagh, Khaled al-Tahus and Bader al-Dahum to pay a bail of 2,000 Kuwaiti dinars ($7,100, 5,200 euros), according to the verdict.
Last February, the lower court sentenced the legislators to three years in jail for making remarks at a public rally in October 2012 deemed offensive to Emir Sheikh Sabah al-Ahmad Al-Sabah.
The appeals court scrapped the sentences five months later, saying the men were expressing opinions and had not undermined the emir's authority.
The three ex-MPs had warned at the rally against a planned amendment of Kuwait's electoral law.
The opposition had said the change would allow the US-sponsored kingdom to manipulate election results.
Reacting to the ruling, Dahum wrote on Twitter that the "verdict is political."
The charges against Sawwagh, Tahus and Dahum marked the start of the kingdom's crackdown on dissent that saw dozens of opposition activists charged with insulting the emir.
Several activists have been jailed while others are still on trial.
The Supreme Court ruling came ahead of a planned opposition rally on Tuesday, the first in more than a year, to expose what it describes as major corruption cases.
Oil-rich Persian Gulf state was rocked by a series of political crises since mid-2006 that saw a dozen governments resign and parliament dissolved on six occasions.