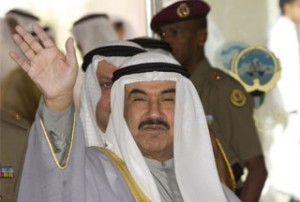 Opposition lawmakers in Kuwait file two motions to remove Prime Minister Sheikh Nasir Muhammad al-Ahmad al-Sabah and his interior minister on corruption charges.
The premier and Interior Minister Sheikh Jabir Khaled al-Sabah are both senior members of the al-Sabah family that has been ruling the Persian Gulf state for 250 years.
On Tuesday, ten opposition lawmakers filed a "motion for non-cooperation" against the prime minister following a protracted six-hour session held behind closed doors.
"A motion has been officially submitted, and voting will take place on December 16," AFP quoted Parliament Speaker Jassem al-Khorafi as saying.
If passed, the motion would still need to be sent to the emir to make a decision on either sacking the premier, or dissolving the Parliament and call fresh elections.
Sheikh Nasir, the first prime minister to be questioned by the Kuwait Parliament since the legislature was set up in the Arab emirate in 1962, is facing allegations that his office embezzled KWD 23 million (USD 86 million) in the run-up to 2008 elections. He is also charged with issuing a 700,000-dollar check to a former lawmaker last year.
Early on Wednesday, 10 other opposition legislators filed a no-confidence motion against the interior minister for providing the Parliament with false information during a June 23 questioning.
Kuwaiti lawmakers also grilled Minister of Public Works and Municipalities Fadhel Safar over allegations of financial and administrative corruption, and then Defense Minister Sheikh Jabir Mubarak al-Sabah for alleged misappropriation of public funds and wrongdoings in arms deals.
The appointment of Sheikh Nasir's, a nephew of the ruler, as premier in 2006 sparked bitter disputes between Kuwait's executive and legislative bodies, which have seen the Parliament being dissolved three times, and have forced Sheikh Nasir to resign five times ever since.
Late on Tuesday, 30 Lawmakers out of the Parliament's 50 members issued a statement expressing confidence in the prime minister, who denies the corruption charges along with his ministers.
For the opposition motion to pass, it requires at least 25 votes from elected legislators who are not cabinet ministers. All ministers, whether elected lawmakers or not, hold ex-officio seats in Kuwait's Parliament.