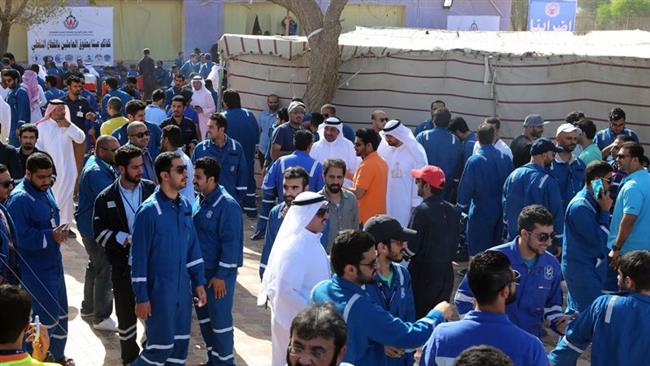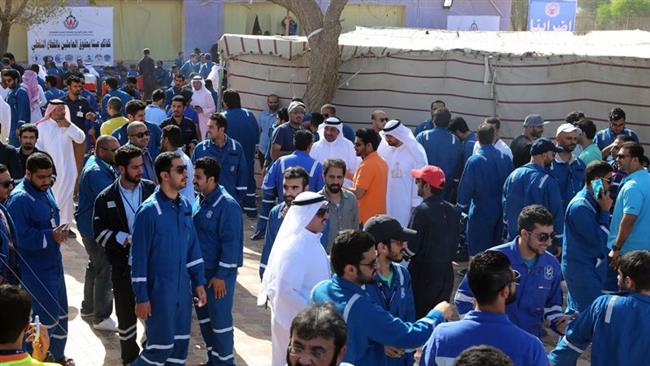 Thousands of oil industry workers in Kuwait have started an open-ended strike to protest against a government proposal to slash their wages and privatize parts of the sector.
"Thousands of workers began their strike" on Sunday, the oil workers union chief, Saif al-Qahtani, told AFP, adding that production was partially halted.
"Observed since 7:00 a.m. (0300 GMT), this open-ended strike will continue until the workers' demands are met," Qahtani said.
The global decline in crude oil prices has forced Kuwait to introduce a new payroll system, including cuts in salaries and benefits, for all public employees, including the state's 20,000 oil workers.
Kuwait Petroleum Corporation (KPC) spokesman, Sheikh Talal Khaled al-Sabah, said following the strike's beginning that the national oil conglomerate had started an "emergency plan" to make sure that local and international markets were not influenced by the walkout.
"Export operations are going ahead as planned and (KPC) is capable of responding to major international market demands, based on agreements with clients," he said in a statement.
According to the statement, the plan ensures that all gas stations as well as Kuwait's international airport and companies will continue to be supplied.