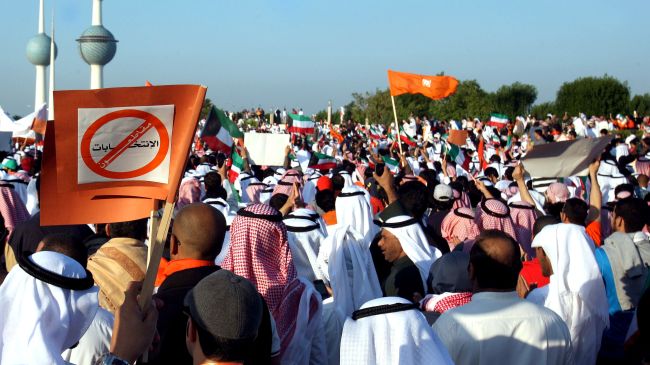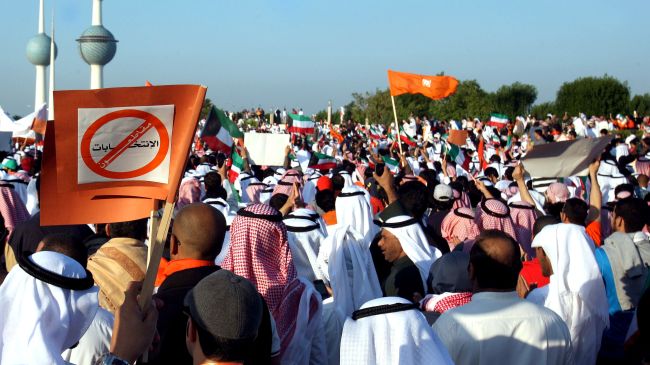 Tens of thousands of people have held a demonstration in Kuwait against parliamentary elections due to take place on Saturday.
Carrying banners reading "absolute power corrupts" on Friday in Kuwait City, the demonstrators called for a voter boycott in protest at changes to the electoral law, which the opposition had called a constitutional coup by the government.
According to organizers, the demonstration was the largest ever held in the capital.
The opposition has held many protests after the government announced six weeks ago that it was holding parliamentary elections on December 1, and announced that it would change the electoral law "to preserve national unity."
Activists say a decision to change the electoral law by Emir Sheikh Sabah al-Ahmad Al Sabah is aimed at electing a rubber-stamp parliament.
Opposition politicians are boycotting Saturday's elections in protest at the emir's decree.
"The people want to bring down the decree!", the protesters chanted.
"The message that the Kuwaiti people send… is that they refuse the changing of the election law by the authorities," said Ahmed al-Saadoun, a former parliament speaker and now prominent opposition figure, adding "The number of people is a reflection that this decree must be scrapped."
Kuwait was the first Arab state in the Persian Gulf to establish an elected parliament in 1962. However, the Al Sabah family remained in control of key posts, including the premiership and the ministries of defense, interior, and foreign affairs.