Iran
Larijani: Any sanction on Islamic Iran will be met with bitter response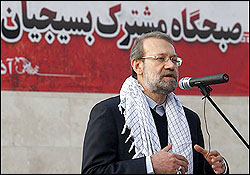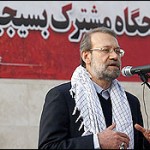 Majlis Speaker Ali Larijani has said that any sanction against Islamic Iran will be met with a bitter response.
Larijani made the remarks in the northeastern city of Semnan on Thursday in reference to the fact that certain Western countries have been calling for the imposition of a new round of sanctions on Iran under the pretext that Tehran's peaceful nuclear program has diverted to nuclear weapons production.
On November 8, International Atomic Energy Agency Director General Yukiya Amano released a report on Iran's nuclear activities, in which he said that Iran appears to have worked on designing an atomic bomb, according to Reuters.
"Sanctions will not have an immediate effect on Iran, and Iran's response will be bitter," Larijani stated.
He added, "Over the past 32 years, the Westerners' threats against our country has always been there, and the threats that the Zionist regime are issuing these days is nothing strange because our people have heard harsher voices, and these (threats) are similar to the screams of an old woman trapped somewhere."
The commotion that the West has created about Iran should not be taken seriously, Larijani said, adding, "They are seeking to intimidate the Iranian people through issuing such threats. I believe, at this juncture, Europe and the United States are gripped by many problems. They dare not commit any aggression against a powerful country like Iran."
He also said that the uprisings occurring in the region is the reason behind such threats, adding that these developments transformed the political landscape of the region, but certain Western countries cannot tolerate it.
"In the meetings that I recently held in Switzerland, a European official told me that the main problem facing the West is the isolation of israel in the region and the important role of Iran in regional developments," Larijani stated.
The Iranian Majlis speaker attended a meeting of the International Peace and Security Committee of the 125th Assembly of the Inter-Parliamentary Union (IPU) in the Swiss capital of Bern on October 18.
Larijani said the West has lost its main allies, namely Egypt and Tunisia, and "this is why it is screaming."
He added that the West is seeking to change the governing system of the Islamic Republic of Iran.
Larijani also said, "The Westerners assumed that they can bring the Iranian nation to their knees, but our nation put up resistance and endured difficulties and could gain access to many technologies."
"The Iranian nation should make the West regret its acts of adventurism. And the U.S., the zionist regime, and Western countries must be aware that the path of the Iranian nation will never change," he stated.