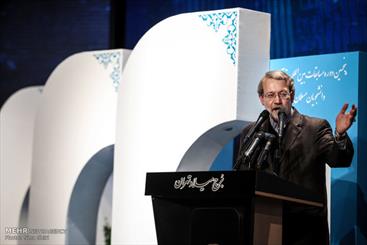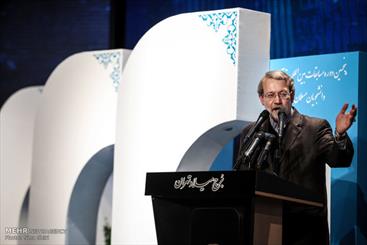 Iran's Parliament speaker delivered a speech on the Muslim world's capacities and difficulties during the closing ceremony of the 5th International Quran Competition in Tehran.
Iran's Parliament speaker Ali Larijani pointed to the increasing number of scholars and scientists in the Muslim world, adding that the spread of science and rationality in various Islamic countries such as Egypt, Syria, Algeria and Malaysia must be considered as a highly valuable asset.
He warned against attempts at creating dissention among Muslims, and criticized countries that sought to intensify such conflicts; "we Muslims follow the same religion and holy book, and must stop stressing on division. Why not take advantage of all capacities within the Muslim world to bring about more unity among ourselves?"
Elsewhere, Larijani criticized some countries for their assertion that the drop in oil prices would severley harm Muslim countries, adding that, "these day-dreaming countries are absolutely mistaken since we are making endeavors not to base our economy on oil exports."
The 5th International Quran Competition of Muslim University Students with the participation of representatives from 47 countries around the world wrapped up Sunday afternoon in Tehran.
The completion which was inaugurated on Jan. 1 with the opening speech of Iranian President Hassan Rouhani, acknowledged Vahid Khazaei from Iran with the top prize. Participants from Egypt and Iraq were awarded the second and third places, respectively.