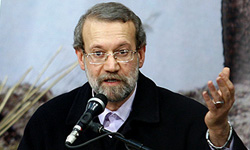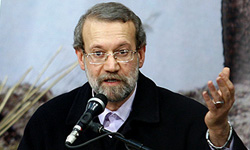 Iranian Parliament Speaker Ali Larijani has warned that the ongoing crimes against innocent people will not remain unanswered.
"Crimes by countries will not remain unanswered. These countries are causing trouble for themselves while inciting hatred of Muslims," Larijani told the Islamic Republic of Iran News Network (IRINN) on Tuesday.
"We are presently faced with movements by nations that rose up to determine their fate. On the other hand, we are witnessing an array of the US, Zionist and Western forces that are provoking the will of nations. There are also certain (countries) which served them as tool," he said.
The top Iranian parliamentarian pointed to popular anti-government protests in Bahrain and noted that Muslim people in Iran cannot be indifferent to the fate of Muslims in Bahrain who are faced with brutal violence by Saudi Arabia and the United Arab Emirates.
"They (Saudi Arabia and the UAE) are making a mistake. They think that the deployment of their forces in the region can achieve results but in fact they have been deceived by the US," he noted.
The United States has compelled certain countries to bombard the Bahraini people with guns they, themselves, have sold, Larijani emphasized.
He also warned that those countries which are committing such crimes would sustain the most damage.
The Iranian Majlis speaker noted the growing Islamic awakening in the world and warned against the US intention to hijack democratic revolutions in the region.
The US tried to prevent protesters from achieving their objectives since the outset of anti-government protests, Larijani said, adding Washington attaches significance to Israel's interests.
Larijani concluded that although the US provided the utmost support to dictatorial regimes in the region, the victory of people in certain countries obliged it to finally withdraw in shame.
He also said that US War minister Robert Gates arrived to this region to give orders to fire at the peaceful protestors in Bahrain. Gates had earlier said that time is running out and events in the region lead to the establishment of countries similar to Iran's pattern which he considered as worrying.