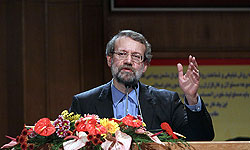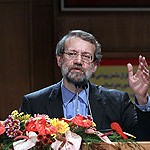 Iranian Parliament Speaker Ali Larijani underlined on Wednesday that economic and political cooperation between Iran and Iraq has witnessed an ascending trend.
"The cooperation between Iran and Iraq is expanding," Larijani told reporters in a press conference here in Tehran before his departure to Baghdad.
"We will consult with the Iraqi parliament speaker on economic and political cooperation."
The visit, which takes place at the invitation of Iraqi Parliament Speaker Ayad al-Samarraie, is aimed at a discussion of bilateral issues for the attainment of a common view.
Larijani also told reporters that in addition to international consultations between the two countries, the age-old, friendly relations between the two Muslim nations have caused a constant exchange of views by the Iranian and Iraqi officials.
Larijani also reminded that the Islamic Republic of Iran has always extended support to the Baghdad government since its establishment.
Ayad al-Samarraie visited Iran on September 27.