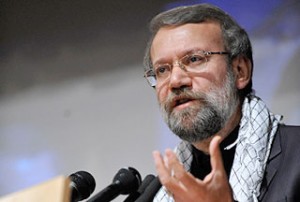 Parliament Speaker Ali Larijani says Iran will start enriching uranium to a level of 20 percent if the Western side keeps refusing to sell the country's needed fuel.
"We intended to buy fuel to supply fuel for the Tehran research reactor but if they do not want to sell fuel to us, we will enrich uranium," Larijani told reporters in a joint press conference with Arab League Secretary General Amr Moussa in Cairo Tuesday.
He rejected claims that Iran had initially accepted to exchange enriched uranium in Syria or France.
"We have never raised such an issue. We announced that enrichment activities should carry out inside Iran," added the former chief nuclear negotiator.
The development comes as Tehran's research reactor, which produces radiomedicine for cancer patients, is to run out of fuel after years of operation and therefore Iranian nuclear officials called on the IAEA to provide the required fuel for the medical reactor.
Larijani noted that Iran currently conducts all its nuclear enrichment activities for peaceful purposes under surveillance of the International Atomic Energy Agency (IAEA).
His remarks came after the Head of the Atomic Energy Organization of Iran Ali Akbar Salehi asserted that despite Western moves to halt the construction of the Fordo nuclear plant outside Tehran, it would not halt the process.
In order to keep the heat on Iran and force the country to accept a Western-backed offer on nuclear fuel supply, world powers drafted a German-sponsored resolution at the UN nuclear watchdog, demanding that Iran stop construction of its Fordo nuclear facility outside Tehran.
Floated by the Obama administration, the aforesaid fuel draft deal requires Iran to send abroad most of its low enriched uranium (LEU) to be further processed and then returned to the country for use in the Tehran research reactor.
Iranian officials rejected the proposal, saying there are no guarantees that the country would in fact receive the fuel it requires, as some Western countries have previously failed to adhere to their nuclear commitments with regards to Tehran.
The US has refused to consider Iran's concerns and insists the draft deal is "unchangeable."
Iran's nuclear program was launched in the 1950s with the help of the United States as part of the Atoms for Peace program.
After the 1979 Revolution which toppled Iran's US-backed monarch Mohammad Reza Pahlavi, Western companies working on the country's program refused to fulfill their obligations even though they had been paid in full.