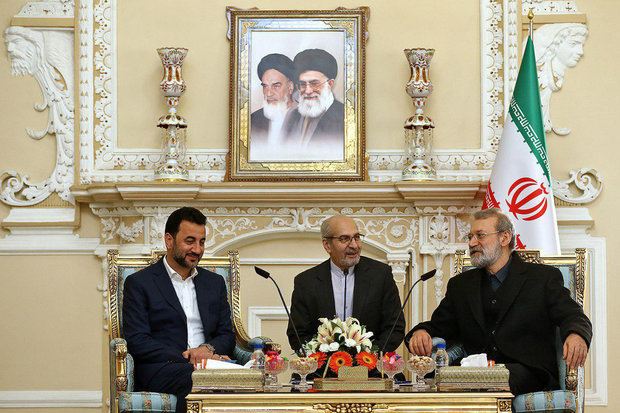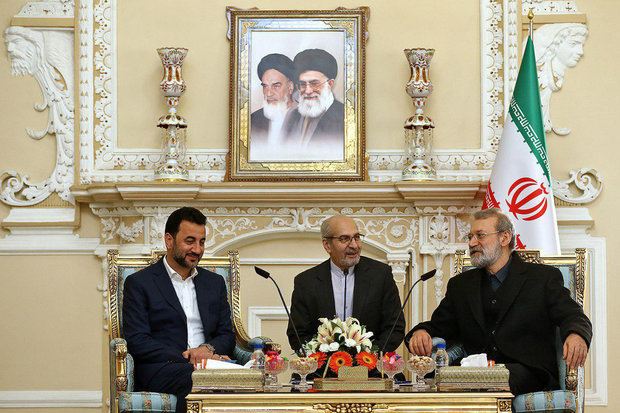 Iranian parliament speaker held talks with Iraqi minister of youth and sports where he asserted that Iraq is now past the height of security crises and called for expanding bilateral economic and social relations.
Iranian Parliament Speaker Ali Larijani held talks with the Iraqi Minister of Youth and Sports Abdul-Hussein Abtaan on Thursday.
Larijani referred to the established, deep-seated relations between Iran and Iraq and said "relations between the two governments have always been influenced by relations between the Iranian and the Iraqi nations. Under the present circumstances there is constructive cooperation which should not, however, be limited to political and security issues, but should include social and economic ties as well."
Iranian parliament speaker stressed the necessity of expanding social, sporting cooperation between Iran and Iraq and added "Iraq has made impressive achievements in sports recently and various Iraqi athletes play in Iran. Consequently, expanding interactions in sports is beneficial and imperative."
"Iraq has fortunately achieved strategic victories against ISIL. Iraqi armed forces, and specially the Popular Mobilization Forces of Iraq, played central roles in this regard," he added.
Larijani asserted that Iraq is today past security crises and said "creating political harmony in Iraq is of vital importance today, because it can prevent other countries to follow adventures in this country."
Iranian parliament speaker stressed the necessity of developing economic and banking ties between Iran and Iraq and added "developing these areas is beneficial to both countries and must be focused upon. Taking measures with respect to issues such as visa exemption agreements, Arvand Rud maintenance and Basra-Shalamcheh railway project will also boost the level of Iran-Iraq economic relations."
For his part, Iraqi Minister of Youth and Sports Abdul-Hussein Abtaan expressed his gratitude to the support provided by the Islamic Republic of Iran for the Iraqi government and said "Iran's approach to support Iraq led to victory over ISIL terrorist group."
"Sport is an area based upon which the two countries can promote relations and interaction. Today, sport is one of the most effective tools for fighting terrorism, drug trafficking and social problems" he stated.
Abdul-Hussein Abtaan highlighted the achievements made by Iraq in sports through the region and said "fortunately, good investment has been made in developing sports infrastructures and Iraq calls for expanding ties with the Islamic Republic of Iran in this regard."