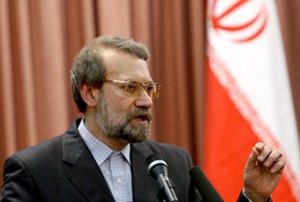 IRI Parliament Speaker Ali Larijani said by reviving the concepts of jihad and martyrdom, Islamic Revolution created real awakening in the Islamic Ummah.
Speaking in the open session of parliament Saturday, Larijani said martyrdom is of great value in Islamic culture as it can change any political situation.
Being reluctant for martyrdom would push nations toward accepting abjection, he reiterated.
Larijani said 1,5 billion Muslims more than 60 years have lost the will to take action against the Zionist regime because of forgetting Jihad and martyrdom.
He described the victory of Lebanon's Hizbollah and Palestinian's resistance in 33-day and 22-day wars as the main result of the path.
"Although the arrogance forged the word of terrorism to make it equal with Jihad in the mind of nations but terrorism is a blind move and Jihad is a sacred one," Larijani said.
He added that Jihad is not a personal issue but it follows Islamic revival and defending Muslims' rights.