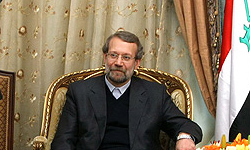 Iranian Parliament Speaker Ali Larijani has met with senior Iraqi religious leaders to discuss major regional and international developments.
The Iranian official held talks with Iraq's most revered Shia cleric Grand Ayatollah Ali al-Sistani in the holy city of Najaf on Saturday afternoon.
The Grand Ayatollah welcomed the Iranian delegation and made remarks over Muslims in the region and the world.
Larijani, for his part, underlined the importance of religious authorities' viewpoints in resolving various issues among Muslims.
The top Iranian lawmaker also met with Ayatollah Bahr Al-Uloum in Najaf on the same day.
Ayatollah Bahr Al-Uloum described the situation in Iraq as tough and vulnerable.
"Iran is the only country which has supported the new Iraq among the neighboring countries," Ayatollah Bahr Al-Uloum stressed.
The Ayatollah also emphasized on the role of religious authorities in order to obtain unity among Shia and Sunni Muslims across the world.
Meanwhile, Larijani referred to widespread relations between Iran and Iraq.
"Iran has good cooperation with Iraq in the fields of electricity, energy and building schools and hospitals," he said.
Larijani's visit to Iraq at the head of a parliamentary delegation started on Wednesday at the invitation of Iraqi Parliament Speaker Iyad al-Samarrai.