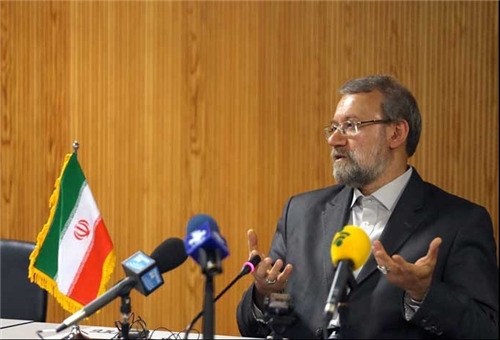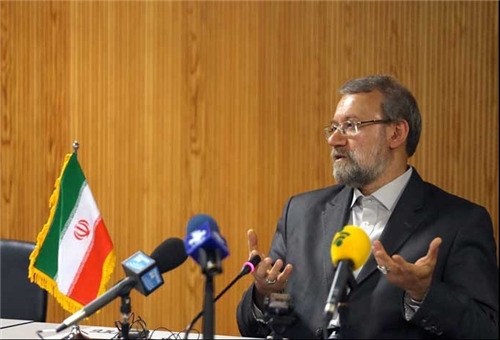 Iranian Parliament Speaker Ali Larijani said no one in his country cares for the US and its allies' war rhetoric, adding that such threats and warmongering positions merely tarnish the Americans' prestige.
"Of course, such threats are of no importance to anyone in Iran," Larijani told reporters in a press conference in Geneva where he is attending the Inter-Parliamentary Union (IPU) Assembly.
Asked by reporters to comment on the US double-track policy of willingness to hold talks with Iran, on one hand, and threatening Iran with military attack, on the other hand, he said, "This model of position-taking is bad for the Americans, themselves, and for their prestige."
Meantime, Larijani voiced optimism about the next round of talks between Iran and the world powers in Geneva, and said, "I have a positive look, and certain countries which sought sanctions and threats in the past have now realized that issues can be settled politically."
Stressing Tehran's willingness to hold talks to settle the nuclear standoff with the West, he said, "The new Iranian government is ready for negotiations and has new methods for such negotiations as Iran wants a settlement of its nuclear issue through political talks."
Iran and the world powers held a meeting on the sidelines of the UN General Assembly session in New York in September and are due to meet again in Geneva on October 15-16.
On April 6, Iran and the six world powers wrapped up two days of intensive negotiations in Almaty.
Washington and its western allies accuse Iran of trying to develop nuclear weapons under the cover of a civilian nuclear program, while they have never presented any corroborative evidence to substantiate their allegations. Iran denies the charges and insists that its nuclear program is for peaceful purposes only.
Tehran stresses that the country has always pursued a civilian path to provide power to the growing number of Iranian population, whose fossil fuel would eventually run dry.
Despite the rules enshrined in the Non-Proliferation Treaty (NPT) entitling every member state, including Iran, to the right of uranium enrichment, Tehran is now under four rounds of UN Security Council sanctions and the western embargos for turning down West's calls to give up its right of uranium enrichment.
Tehran has dismissed West's demands as politically tainted and illogical, stressing that sanctions and pressures merely consolidate Iranians' national resolve to continue the path.
Tehran has repeatedly said that it considers its nuclear case closed as it has come clean of the International Atomic Energy Agency (IAEA)'s questions and suspicions about its past nuclear activities.