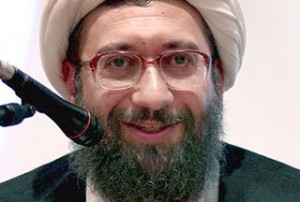 The newly-appointed Iranian judiciary chief has promised to firmly deal with lawbreakers and those violating the rights of the nation.
Ayatollah Sadeq Larijani said in his inauguration ceremony on Monday that he would spare no effort to protect the rights of the nation and to haul lawbreakers up before the court of law.
"No body should dare or reserve himself the right to act against the law, violate people's right or take away their security and peace of mind," Larijani said, vowing to deal with any form of lawbreaking firmly.
He then called for an effective 'interaction' between the judiciary body and the other two bodies namely the legislative and the executive.
"The independent nature of the bodies should not be interpreted into their dissociation … The three bodies should have a rational interaction defined within a legal framework."
The new judiciary chief then admitted that Iran's judicial system has been suffering from various shortcomings, which he said should be dealt with respect to their priority.
Sadeq Larijani, who is a brother of Parliament (Majlis) Speaker Ali Larijani, replaced Ayatollah Mahmoud Hashemi-Shahroudi as the new judiciary chief on Monday.
He was a former member of the Guardian Council — the top legislative body tasked with overseeing the election.
He has also been twice elected to the Assembly of Experts, the top clerical body that supervises the Leader of the Islamic Revolution and the institutions operating directly under his command. It is also tasked with electing a new leader in the event of the Leader's passing.