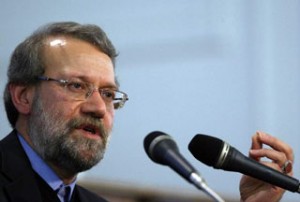 The Iranian parliament speaker says the US has turned a blind eye to the Israeli crimes committed against Palestinians, stressing that resistance is the only way to free Palestine.
Speaking at an international conference entitled National and Islamic Solidarity for the Future of Palestine, Ali Larijani said Israel would cease to exist without US support.
"What is more painful is that they describe this modern savagery as peace-making processes," Larijani said.
The Iranian official further warned that the US would have to face the consequences if it does not stop Israel's crimes.
"It seems that Israel likes to be the killer in the Middle East and the US does not want to see this," Larijani said and added, "The Israeli regime will never survive without US support."
"Any diplomatic effort [towards peace in Palestine] should be accompanied by the right strategy, which is Intifada (uprising) and jihad."