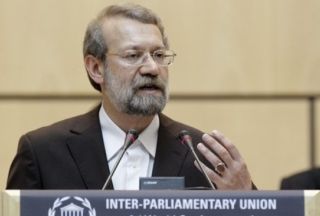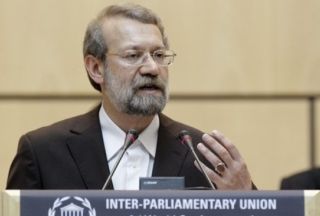 Speaker of the Iranian Parliament (Majlis) Ali Larijani has slammed the extensive influence wielded by Western powers over international bodies such as the UN.
During his speech at the 3rd World Conference of Speakers of Parliament in Geneva on Monday, Larijani said the United Nations has failed to maintain global peace and justice.
"The founding philosophy of the United Nations was the protection of international peace and security and the prevention of war and aggression, but in the 60 years of its life we have continuously witnessed wars," he added.
"Without doubt this incompetence is the result of the double standards and unilateral policies of the US and other major powers, and their instrumental use of the specialized international bodies."
The Iranian speaker went on to add that the International Atomic Energy Agency (IAEA) has also shown compliance with US demands.
"Instead of dealing with countries possessing nuclear weapons and weapons of mass destruction (WMDs), the IAEA and the UN Security Council impose limitations on countries seeking the peaceful use of nuclear energy."
Highlighting recent terror attacks, including the twin bomb attack outside a mosque in southeast Iran last week, Larijani stressed that the " unhealthy power structure of the international community has led to…a situation detrimental to the present and future of mankind."
He proposed that the United Nations and the Inter-Parliamentary Union form a new independent body that would oversee global peace efforts and make up for the other organization's shortcomings.
On the standoff over Iran's nuclear program, Larijani said Washington's defiance of the Tehran declaration despite initial steps to encourage Turkey and Brazil's efforts betrayed the "arrogance" of the US.