Iraq
Larijani voices opposition to foreign meddling in Iraq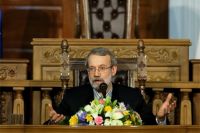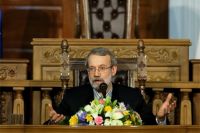 Iranian Parliament Speaker Ali Larijani once again voiced Tehran's strong opposition to any foreign intervention in Iraq on the pretext of war on terrorism, and said these are only the Iraqi people from different political groups and tribes who should decide their own fate.
Larijani's remarks came as the Iraqi armed forces backed by the local volunteers continue the battle against the ISIL terrorist group.
"All Iraqi tribes and ethnic groups should actively get involved in the political structure in Iraq" Larijani said according to FNA.
He reiterated that Iraqi Kurds, Sunnis and Shiites should participate in the country's political process.
Larijani also commented on terrorist activities in Iraq, saying the perpetrators of such acts are opposed to the establishment of a democratic political structure in the country. He said they do not want Iraqi ethnic groups to live in peaceful coexistence.
"They (terrorist groups) seek to create tensions between Shiites and Kurds, Shiites and Sunnis, as well as Kurds and Sunnis," he said.
On June 10, the ISIL took control of the city of Mosul, the capital of Nineveh Province. They later took control of Tikrit, some 140 kilometers (87 miles) northwest of the capital, Baghdad.
Hundreds of thousands of Iraqi people have been forced out of their homes since the ISIL began its attack.
Iraqi Prime Minister Nouri al-Maliki said the seizure of Mosul was a "conspiracy." He also holds Saudi Arabia and Qatar responsible for the security crisis in the country, denouncing Riyadh as a major supporter of global terrorism.