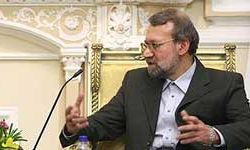 Amid wide-ranging talks between Tehran and the P5+1, Iranian Parliament Speaker Ali Larijani warns of 'the Western desire to dominate and demand'.
Larijani, who was formerly the chief nuclear negotiator before taking up the top seat in the Parliament (Majlis), said world powers have been setting the stage to continue their "unwarranted demands" on Iran's enrichment activity.
Referring to the recent media hype over the recently-revealed Fordu enrichment facility in southern Tehran, Parliament Speaker Ali Larijani said Iran has always come clean about its nuclear developments.
This is while, according to Larijani, there is no room for Western concern, let alone demands, as the country's nuclear work have always been "a clear-cut process".
"Their hypercritical claims against Iran's enrichment work have proven to be nothing but lame excuses. They obviously want to make further demands on the country's nuclear issue," said Larijani in a Sunday meeting with the Algerian ambassador to Tehran.
Larijani's remarks come only days after Iranian diplomats resumed high-level negotiations with representatives of the P5+1 (Russia, China, France, Britain and the US plus German) in Geneva.
The talks, which focused on a whole range of global issues including Iran's nuclear program, is slated to continue through October.
Iran's performance and the P5+1 attitude during the meeting was somehow well-received by lawmakers, with some going as far as calling the sit-down as "a significant breakthrough."
Hossein Sobhani-Nia, the Deputy Chairman of the Parliament's National Security and Foreign Policy Commission, said the negotiations show that Western superpowers have come to terms with Iran's right to attain peaceful nuclear technology.
"For starters, Western diplomats finally changed their stance in the meeting and adopted a positive approach towards Iran's nuclear issue," said Sobhani-Nia.
"Iran's determination to defend its nuclear rights and the country's unity on the issue gave it a strong position in the talks," he added.
Although the meeting was considered as productive by all parties, including the Americans and the Europeans, the US congress was quick to introduce a series of resolutions supporting increased economic sanctions against Iran, in case the talks fail.
"If we want to get their attention, we have to do something real: sanction Iran's gasoline imports," said Rep. Ted Poe, R-Texas, in a Friday address.
Talks of imposing tough sanctions on Iran's gas and energy sector have been going on for some time.
Earlier in April, a group of American lawmakers advocated the imposition of "tight and crippling sanctions" against countries that sell refined petroleum, including gasoline, to Iran.
Iran is the world's fourth-largest oil exporter but, according to US estimates, the country relies on gasoline imports to meet 40 percent of its domestic demand.
Iranian officials have shrugged off US threat of gas sanctions. Ali Asghar Arshi, executive director for international affairs at National Iranian Oil Co (NIOC), recently said that the country would have no trouble finding new gasoline suppliers, even if Washington goes ahead and imposes sanctions on all the oil firms that deal with Tehran.
"We can manage … we have alternatives and we can do something about consumption and also production," Arshi had said.