Palestine
Latest developments of Zionist Israel's war on Gaza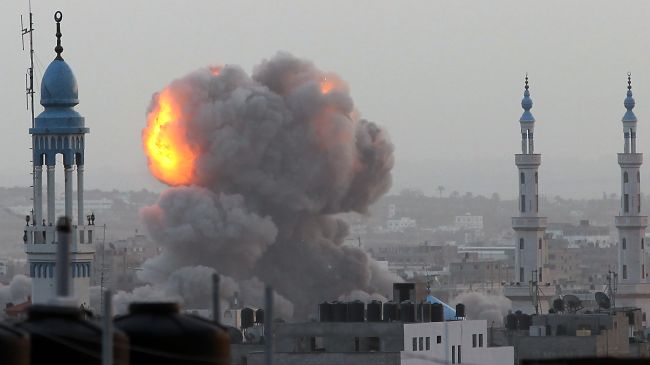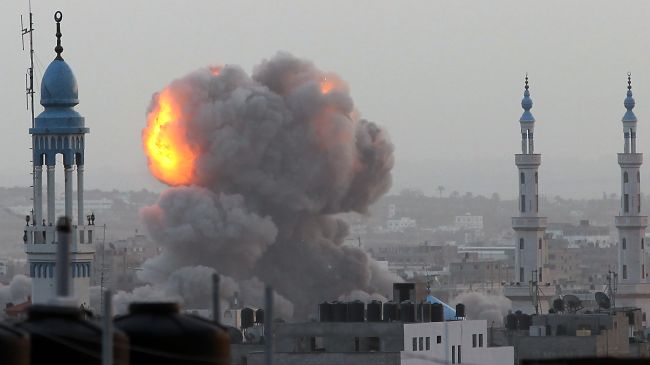 Latest developments about the Israeli offensive against the Gaza Strip which has entered its fifth day:
Four locations in Tel Aviv have been targeted by missiles fired from Gaza. Two missiles have also been intercepted, according to Israeli media.
Palestinian resistance fighters have fired rockets into Sha'ar HaNegev area in southern Israel. One Israeli has been injured.
Zionist Israeli Slaughterer Prime Minister Benjamin Netanyahu says their army is prepared to "significantly expand" the operation against the Gaza Strip.
Qassam Brigades, the military wing of Hamas, say they have fired 34 missiles at Tel Aviv. They also said they fired advanced missiles at Herzliya, a city on the west of Tel Aviv.
Palestinians say they have shot down an Israeli drone in the north of Gaza. They also reported that a rocket fired from the Gaza Strip has hit an Israeli warship.
A 52-year-old Palestinian has been killed by Israeli drones east of Gaza.
Israel has pounded the Gaza Strip 1,000 times since Wednesday, according to Israeli media.
Rockets fired from Gaza on Sunday have landed in Israel's southern cities of Eshkol, Ashdod, Kiryat Malakhi and Ashkelon.
Four Israelis were injured in Ashkelon in two seperate rocket attacks.
An Israeli was also "seriously" injured in a Palestinian rocket attack in Sha'ar HaNegev, a regional council in the north-western Negev, in Israel's Southern District
Israel's Iron Dome missile shield has intercepted 267, out of a total of 774, Palestinian rockets and missiles, according to Israeli TV.
Press TV building in Gaza was hit twice in Israeli bombings. A cameraman working for the news channel was injured.
Israel has closed down all the educational centers within 40 kilometers radius of the Gaza Strip. A Jewish agency is taking 3,200 children who live in southern Israel to the north for a "day of fun."
Hamas headquarters in Gaza City have been pounded again. Houses of Palestinian leaders and government offices have been the target of dozens of airstrikes over the past four days.
Six journalists were injured after Israel carried out another airstrike on al-Quds TV office in the Rimal neighbourhood of Gaza City, according to Gaza health ministry. Witnesses said most journalists had evacuated after an initial strike.
At least 51 Palestinians have been killed and more than 500 others wounded since the beginning of Israeli attacks against the Gaza Strip on Wednesday.
Three Palestinian kids, including two toddlers, have been killed over the past hours. Two boys, 4 and 5, older brothers of an 18-month-old kid killed earlier, were badly injured and are reportedly in critical condition.
Al-Saraya security compound in Gaza was hit at least four times on Sunday morning.