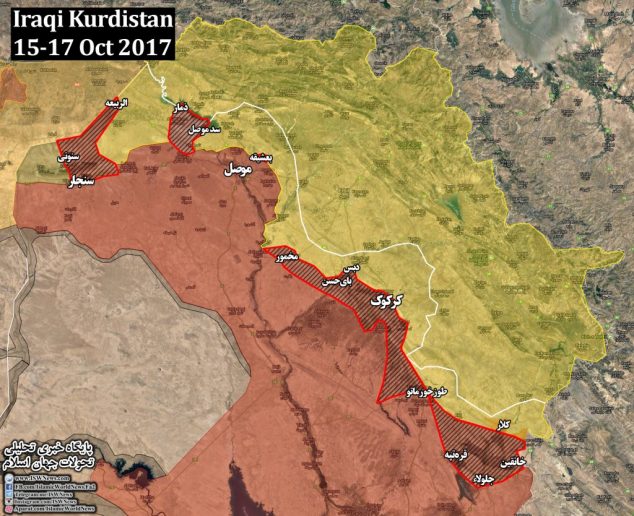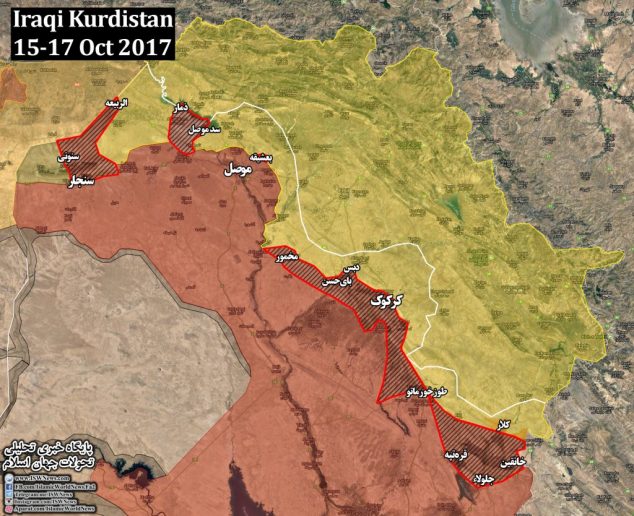 The Iraqi military has seized several important aras in northwestern Iraq this week, forcing the Kurdish Peshmerga to abandon their posts, often without a fight.
The Iraqi military began the week by seizing the provincial capital of Kirkuk, K1 Base, and its nearby oil fields, including the Bai Hassan and Dibs refineries.
Following the seizure of Kirkuk, the Iraqi forces shifted their focus to the Yazidi populated city of Sinjar in Iraq's northwestern countryside.
Yazidi-led Hashd Al-Sha'abi fighters were able to take control of Sinjar after Kurdish Peshmerga fighters abandoned their posts inside the city – no fighting was reported.
Shortly after Hashd Al-Sha'abi took control of Sinjar, the Peshmerga abandoned the Rabi'ah Crossing into Syria's Al-Hasakah Governorate.
The map at the top of this article illustrates the latest front-lines in Iraqi Kurdistan.
Source: AMN