Palestine
LATEST NEWS:More than 24 Martyrs in zionist Aggression on Gaza, Hamas Rockets' into Al-Quds, Haifa Shock 'Israel'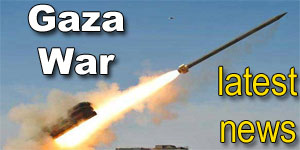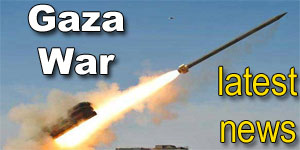 The "israeli" massacre against the besieged Gaza strip continues leaving more than 23 Palestinian martyrs and dozens others injured.
However, this time the Palestinian resistance said its words" Tel Aviv, Haifa, al-Quds are all in the orbit of our rockets, and more of surprises are still coming."
Starting with the "Israeli" aggression, the "Israeli" warplanes bombed the home of a senior Islamic Jihad resistance man after midnight Tuesday, martyring him and five members of his family in an attack on the family's home, medics said.
A Gaza health ministry spokesman said the attack martyred Hafiz Hamad and five members of his family.
Ashraf al-Qidra, spokesman for the Ministry of Health, confirmed the deaths of six relatives in the attack on the Hamad family home in Beit Hanoun in the northern Gaza Strip.
He identified them as Hafiz Mohammed Hamad, 30, Ibrahim Mamedhmed, 26, Mahdi Mohammed Hamad, 46, Fawzia Khalil Hamad, 62, Mehdi Hamad, 16, and Suha Hamad 25.
Furthermore, an airstrike on al-Shouka neighborhood of Rafah in the southern Gaza Strip early Wednesday morning martyred 24-year-old Abdul-Hadi al-Sufi and seriously wounded one other person, al-Qidra said.
That attack and the airstrike targeting the Hamad family home would bring the total number of Palestinians martyred since Monday in Gaza to 24.
"Israeli" airstrikes on the northern Gaza Strip martyred six Palestinians on Tuesday night.
A child was also martyred and two others wounded in an airstrike on the Sheikh Radwan neighborhood in Gaza City in the early evening.
Suleiman Salman Abu al-Sawaween, 30, was martyred and another critically injured in an airstrike on al-Qarara, north of Khan Younis.
Ahmad Moussa Habib, 48, and Ahmad Ahed Habib, 19, were martyred after an airstrike targeted a tuk-tuk vehicle in the al-Shujaiyeh neighborhood in Gaza City, medics said.
Fakhri Saleh Ajjouri was reported martyred after an airstrike targeted a motorcycle near Abraj al-Sheikh Zayed in the northern Gaza Strip.
Earlier, seven Palestinians were martyred and 25 were severely injured in an "Israeli" airstrike targeting a house in the southern Gaza Strip, a medical official said.
An eight-year-old child, Siraj Iyad Abdulal, was later martyred from injuries sustained in the airstrike.
A missile slammed into the house in Khan Younis martyring seven people, including two children.
The house belonged to the al-Kaware family.
Abduallah Kaware, Mohammad Ashour, 13, Riyadh Kaware, Mahmoud Judeh, Bakir Mahmoud Judeh, 22, Ammar Mohammad Judeh, 22, and Hussein Mohammad Kaware, 14, were killed.
"The Khan Younis massacre … of children is a horrendous war crime, and all "Israelis" have now become legitimate targets for the resistance," Hamas spokesman Sami Abu Zuhri said on Facebook.
In response to the "Israeli" continuous aggression, the Palestinian Resistance hit back with rocket fire on "Israel's" settlements in Occupied al-Quds and Tel Aviv.
As sirens wailed across al-Quds, three loud explosions were heard and a series of flashes lit the sky to the southwest.
The "Israeli" police said one rocket fell in the vicinity of Ramat Raziel, some 10 kilometers from the city's southwestern flank and two more fell in outlying areas, without elaborating.
The Ezzedine al-Qassam Brigades, the armed wing of Hamas, said it had fired four M75 rockets at al-Quds, which lies 65 kilometers from the Palestinian enclave.
It also announced to have launched rockets at Haifa, 165 kilometers away.
There was no report of anything hitting the northern port city but the "Israeli" army said a rocket did fall on Hadera, 100 kilometers north of Gaza.
Hamas also fired four rockets at Tel Aviv, 60 kilometers north of Gaza, setting sirens off across the city.
According to the "Israeli" media, more than 34 settlers were injured in the Palestinian shelling.
"Israeli" Prime Minister Benjamin Netanyahu said the Zionist entity would "not tolerate the firing of rockets on cities and towns".
"We have therefore significantly expanded our operations against Hamas and the other "terrorist" organizations in Gaza," he said in a statement.
His remarks came after the security cabinet approved the call-up of some 40,000 reservists, as a senior official said the military was preparing all options to stamp out the rocket fire, "including an invasion or a ground operation".
"We have been instructed by the political echelon to hit Hamas hard," military spokesman General Moti Almoz said in an interview with army radio. Two brigades were already stationed around Gaza, with more to join them in coming days.
A total of 117 rockets were fired from the Gaza Strip at "Israel" on Tuesday, "Israel" said.