Latin America
Latin American allies of Morales slam 'coup' in Bolivia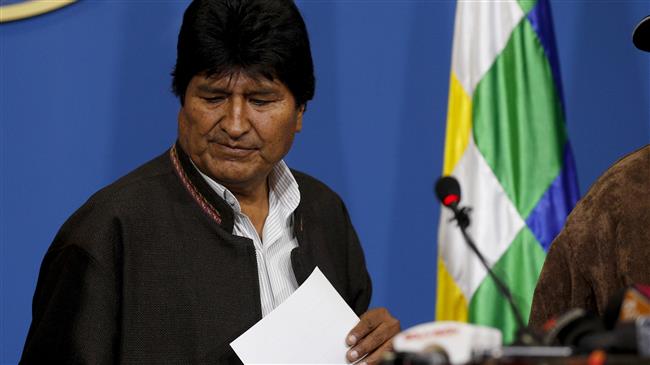 Latin America's leftist governments and prominent politicians have denounced an opposition-led "coup d'état" in Bolivia against the government of Evo Morales, who was forced to step down as president under pressure from the army amid violent post-election protests.
Morales — Latin America's longest-serving president — was declared the winner of Bolivia's October 20 presidential election.
The opposition, however, rejected the outcome and said there had been fraud in the election process. That sparked violent street protests, which left three people dead and hundreds more wounded, in what the Morales government called a coup bid.
Following an audit, the Organization of American States, which monitored the election process, said in a report on Sunday that it had found evidence of irregularities on a wide scale in the vote.
Reacting positively to the report, Morales initially called for "new national elections, which, by voting, allow the Bolivian people to democratically elect new authorities."
Later in the day, however, and following calls by senior army and police authorities for the Bolivian leader to quit, the 60-year-old announced he was stepping down.
Morales and his aides left La Paz for Chimoré, in the state of Cochabamba. " It was unclear whether Mr. Morales intended to leave Bolivia or stay in that area, which is home to coca leaf growers and has been a stronghold of support," wrote the New York Times.
In a Twitter post after stepping down, Morales said an "illegal" arrest warrant had been issued against him, and that his home had come under attack by "violent groups."
"Putschists are destroying the rule of law," Morales wrote.
Police, however, rejected the claim and said there was no warrant for the arrest of Morales.
Latin America reacts
Morales' shock resignation has drawn condemnations from Latin America's leftist governments and prominent politicians, many of whom echoed Morales and branded the developments in Bolivia as a "coup d'état."
Venezuela's President Nicolas Maduro has called for a mobilization of political and social movements "to demand the preservation of the life of the Bolivian native peoples, victims of racism."
As Morales resigned, a group of hooded protesters in the capital, Sucre, overran the embassy of Venezuela, a strong ally of the Morales administration.
"Hooded persons with dynamite and shields have taken over the Venezuelan embassy in Bolivia. We are OK and safe, but they want to commit a massacre against us," Ambassador Crisbeylee Gonzalez told the state news agency ABI.
"Help us report this barbarity," ABI quoted her as saying.
Meanwhile, Cuba's Foreign Minister Bruno Rodriguez has described Morales as "a protagonist and a symbol of the rights of the indigenous peoples of our Americas."
Furthermore, Brazilian politician and ex-president, Lula da Silva, has said "my friend Morales" was removed in a coup, evidence of "an economic elite in Latin America that did not know how to share democracy with poor people."
Argentina's President Cristina Fernandez de Kirchner has also said a coup was carried out "by the joint actions of violent civilians, police personnel who confined themselves to their barracks, and the passivity of the army."
In a show of support for Maduro, Mexican Foreign Minister Marcelo Ebrard said on Sunday that the country would offer asylum to outgoing Bolivian President Evo Morales if he sought it.
In turn, the Nicaraguan government on Sunday issued a statement "strongly condemning" the "coup" against Morales
"We express our rejection and repudiation of fascist practices that ignore the constitution, laws and institutionalism that govern the democratic life of nations," the statement said.
Russia: Coup killed govt. push for dialog
Moscow on Monday blamed Bolivia's opposition for the violence plaguing the South American state, saying it looked like a government push for dialog had been swept aside by an orchestrated coup.
The Foreign Ministry said in a statement it had been alarmed by the events, urging all political forces to show common sense and act responsibly.
UN Secretary-General Antonio Guterres also reacted to the developments, voicing "deep concerns" over post-election violence in Bolivia.
"The Secretary-General also appeals to all actors to commit to achieving a peaceful resolution of the current crisis and to ensuring transparent and credible elections," said a statement issued by Guterres' spokesman.
Economic transformation on Morales's watch
As the country's fist indigenous president, Morales is credited for having steered Bolivia through a period of economic growth.
A new research by the Center for Economic and Policy Research (CEPR) has found Bolivia to be the fastest-growing economy in South America over the past five years.
"Bolivia has shown that it is possible for a small, poor country in South America to make substantial economic and social progress, with macroeconomic stability, solid income growth and redistribution, through a mix of state-led, heterodox economic policies, and markets," according to Mark Weisbrot, a co-author of the report.
Based on the same report, Bolivia's per capita GDP growth rate has been double that of the rest of Latin America.
It also cites an increase of nearly sevenfold in government revenue from hydrocarbons during the first eight years of Morales' tenure.
Morales' government managed to cut unemployment by half (from 7.7 percent to 4.4 percent) in 2008, which was maintained at roughly the same level through 2018, says the report.
An article carried by The Washington Post last month said, "13 years after his [Morales'] Movement for Socialism won at the ballot box, it's indisputable that Bolivians are healthier, wealthier, better educated, living longer and more equal than at any time in this South American nation's history."
For more than a decade, Bolivia has registered a more rapid growth compared to its neighbors, bridging the divide with the rest of the continent.
"Governments that have embraced market policies — notably, in Argentina and Ecuador — face economic and political chaos, " says the Post, adding, "Chile, the South American model for capitalism's success, still reigns as the region's richest and most stable economy. Yet even the International Monetary Fund, that champion of the free market, concedes that Bolivia's socialists have been more effective in combating extreme poverty than any other South American government, slashing it from 33 percent of the population in 2006 to 15 percent in 2018."
'West behind regime change op. in Bolivia'
Observers have described Morales' forced resignation as a coup and "regime change operation" designed by the Western imperialists.
Cynthia Rush from Leesburg, Virginia, told Press TV on Sunday that the coup was funded by desperate financial elites in Wall Street and London who aim to preserve the neo-colonial system.
"Evo Morales was a clear target because he has been a very successful president, and has really developed the Bolivian economy, raised living standards" for the poor, she said.
In another interview with Press TV, Ramiro Funez, a political commentator and anti-Imperialist activist in Los Angeles, US, described Morales' resignation as a right-wing "racist" coup supported by the US.
"The United States attempts to undermine any and all opposition to the reign of Washington and the US dollar," according to Funez.
Funez said Morales has served his people well, adding that if there were a free and fair election in the country, Morales would "undoubtedly" win the presidency once more.